Recipes
Mini 'Carrot Top' Cupcakes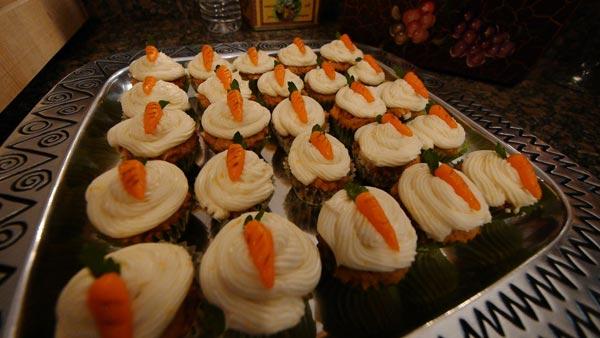 Difficulty: Intermediate
Time:
Provided by: Amanda Hogan
1 1/2 cups All Purpose Flour sifted
1 tsp baking powder
1/2 tsp baking soda
pinch of kosher salt
1/4 tsp cinnamon
1/ tsp ground ginger
1/ tsp grated fresh nutmeg
3/4 cup unsalted butter, melted
1 cup packed light brown sugar
1 egg
2 tbsp greek yogurt
1/4 tsp vanilla extract
1 1/4 cup grated carrots
1 8 0z package Cream Cheese
1/4 cup unsalted butter, at room temp
1 cup confectioners sugar
1 3/4 tsp vanilla extract
1 1/2 tsp orange zest
Marzipan (Almond Paste)
Orange food coloring
Unswettened cocoa powder
Leaves from Carrots for garnish/ or parsley leaves
Directions
For the Cupcakes:
Pre-heat oven to 350 degrees. Line miniature muffin tins with 42 paper liners.
Combine flour, baking powder, baking soda, salt, cinnamon, ginger, and nutmeg. Set aside.
In a separate bowl, whisk melted butter after cooled slightly, brown sugar, egg, yogurt, and vanilla. **Do not add egg to hot butter or it will cook and become lumpy.
Gradually add dry ingredients to butter mixture until combined well. Using a small ice cream scoop (or a tablespoon measurer), divide batter evenly among muffin tin.
Bake 11-13 minutes, or until toothpick comes out clean. Let cool completely before frosting.
For the Frosting:
Beat cream cheese, butter, and confectioners sugar until smooth. Beat in vanilla, and orange zest.
Fill a pastry bag with icing and top each muffin in a circular motion.
For the Marzipan Carrots:
Take a blueberry-size amount of marzipan and shape into a carrot, then place on a piece of wax paper. Working quickly to make enough for one per cupcake. Make sure to keep marzipan covered while working so it doesn't dry out.
Dip a paring knife into the cocoa powder and make tiny slices down each carrot to decorate.
Stick a small carrot leaf in the top of each carrot.
Place the carrots on each frosted cucpcake.