Recipes
Korean Scallion Pancakes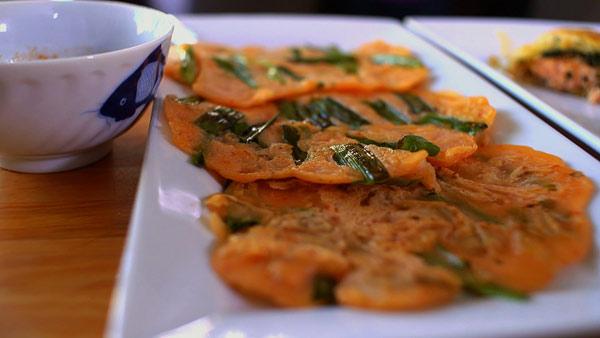 Servings: 4 to 6
Difficulty: Intermediate
Time:
Provided by: Virginia Cha
3/4 cup rice flour
1/4 cup all-purpose flour, sifted
1 tablespoon corn starch
1/2 teaspoon salt
1/4 teaspoon pepper
1 cup of ice cold water
1/2 cup chopped kimchi with juice
8 scallion stalks, sliced into 2 inch segments and with white tops removed (set aside one white segment for dipping sauce)
4 T canola oil
Korean Pancake Dipping Sauce (recipe below)
Directions
Preheat tablespoon of canola oil on medium heat in a skillet. Place a handful of scallion on heated oil. Use a ladle to pour batter onto scallions. Spread batter out to form pancake shape. Flip pancake over when edges look cooked. When finished cooking, edges should look crispy. Add more oil for each pancake.
Place finished pancakes on cooling rack with something to catch oil underneath. Serve immediately with Korean Pancake Dipping Sauce (recipe below).
Korean Pancake Dipping Sauce
2 1/2 T low-sodium soy sauce
2 T rice vinegar
1 T water
1 1/2 t sugar
1/2 t sesame oil
Pinch of Korean red pepper powder
Dash of garlic powder
Sesame seeds to top
1 white scallion, thinly sliced into rounds for garnish
Stir first 7 ingredients in a bowl. Add sesame seeds and scallion rounds to float on top. Pour sauce onto plates for dipping.