Recipes
Ken's Chocolate Turtle Cheesecake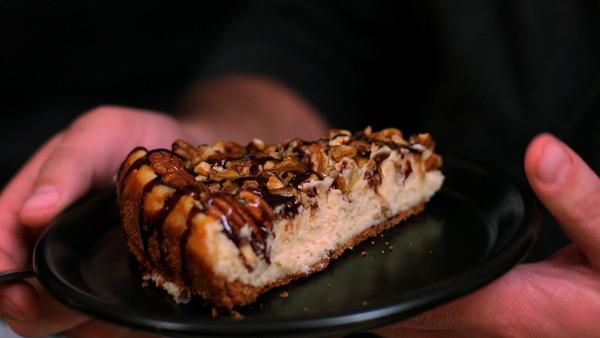 Servings: 8-10
Difficulty: Intermediate
Time:
Provided by: Kendrick Nealy
2 cups graham cracker crumbs
2 tablespoons sugar for crust
5 tablespoons butter, melted
24 caramels, unwrapped
1/4 cup whole milk
1 cup, pecans coarsely chopped and toasted
2 pounds cream cheese, room temperature
1 1/3 cups sugar
Pinch of salt
2 teaspoons vanilla
4 large eggs
2/3 cup sour cream
2/3 cup heavy whipping cream
1/2 cup semisweet chocolate chips, melted
Pecan halves for garnish, toasted
Directions
Preheat oven to 325 degrees.
Mix together the ingredients for the crust -- graham cracker crumbs, 2 tablespoons sugar and melted butter -- and press into a 9-inch springform pan going two inches up the side.
Microwave caramels and milk in a heatproof bowl on high until caramels are completely melted, stirring a few times. Stir the chopped pecans into the caramel mixture.
Pour half onto the crust. Set aside the remaining half. Refrigerate the crust for at least 10 minutes.
In a large bowl beat cream cheese with the 1 1/3 cup of sugar, pinch of salt and vanilla with a mixer until well blended. Add the eggs, one at a time, mixing on low speed after each addition just until blended. Add sour cream and whipping cream and mix on low speed to combine. Remove the crust from the refrigerator and pour the cream cheese mixture over the caramel and crust.
Bake for 1 hour to 1 hour and 10 minutes, until the center is almost set. (Cheesecake will be very tall but will deflate a bit as it cools.) Allow to cool on a wire reack, then refrigerate for at least 4 hours.
Run a knife around the rim of the pan to loosen before removing from the pan. Place on a serving plate.
Microwave reserved caramel mixture and pour over cheesecake. Drizzle melted chocolate over the caramel mixture. Garnish with the toasted pecan halves.
If this cheesecake isn't rich enough, add whipped cream!
Serves 12 to 16.