Recipes
Jersey Summer Corn and Blueberry Waffles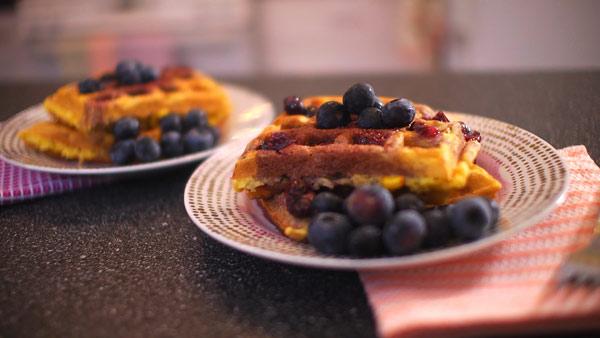 1 3/4 cups cornmeal
3/4 cup all-purpose flour
1 tablespoon baking powder
1 scant teaspoon salt
1 tablespoon sugar optional for batter + 1 cup sugar for sauce
1 large egg
1 1/2 cups milk
1 1/4 cup cream-style corn
5 tablespoons melted butter
2 cups fresh or frozen blueberries
1 cup water
Orange zest
Directions
1. In a medium bowl, combine cornmeal, flour, baking powder, salt, and sugar.
2. In another bowl, whisk egg with milk and corn. Stir in the melted butter.
3. Combine the two mixtures, stirring just until blended.
4. Bake in a preheated and oiled waffle iron until crisp, following manufacturers' directions.
5. Meanwhile, to make the sauce, cook blueberries, sugar, and water on medium-high heat for 10 minutes. Turn heat off and stir in orange zest. Serve immediately over waffles while warm.