Recipes
Fresh Tomato Basil World Market Stozzapreti Pasta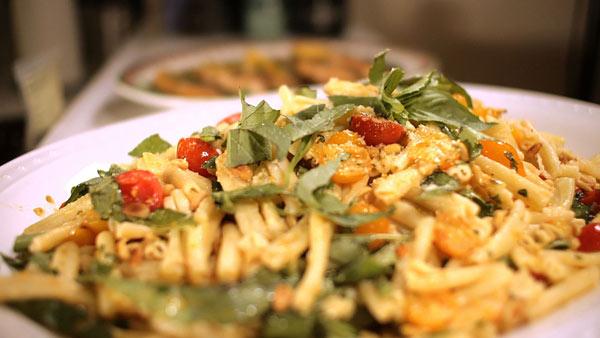 Difficulty: Easy
Time:
Provided by: Heather Milanes
1 package of World Market Strozzapreti Pasta
1-2 packages/containers of red cherry or grape tomatoes
1-2 packages/containers of yellow cherry tomatoes (any type of small tomatoes of your preference are OK)
Sea salt
Olive oil
2 cloves of garlic
1/2 of a shallot
1/4 to 1/2 cups fresh grated parmesan cheese
1 package of pine nuts (about 1/4 cup)
Chopped parsley
Largely chopped fresh basil, 1/2 to 1 cup
Directions
Boil pasta for 15 minutes or so, or until fully cooked to your preference, with salted water and 1 tablespoon of olive oil. Once cooked and drained, put back in pot, add a splash of olive oil so pasta won't stick together, cover and set aside.
Cut all tomatoes in halves. Quickly flash stir in medium/hot pan for 2 to 4 minutes, the yellow and red cherry tomato halves, a dab of fresh chopped parsley, 2 pressed garlic cloves, shallots, 1 teaspoon of olive oil, a dab of sea salt. Set aside.
Next, dry roast the pine nuts in medium to hot pan until golden brown. Set aside.
Add cooked pasta into a large bowl, add the tomato saute to pasta, 1/4 to 1/2 cup of grated parmesan cheese, olive oil (about 2 tablespoons), sea salt to taste, add dry roasted pine nuts, 1 to 2 handfuls of fresh chopped basil.
Plate pasta on a large platter and add additional basil, parmesan cheese, and sea salt to top as desired.
Pair with any dry white wine of your choice.
For more information on the Cost Plus World Market products used visit worldmarket.com.