Recipes
Fresh Mozzarella Cheese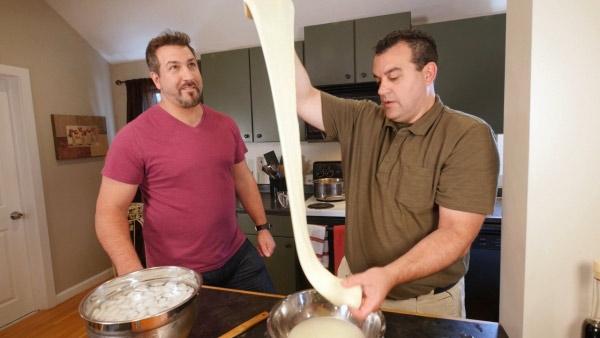 Difficulty: Easy
Provided by: Joe Gatto
1 gallon of water salted with one cup of sea salt
1 pound of fresh mozzarella curd
Large bowl of ice water
Directions
1. Bring pot of heavily salted water to just under a boil.
2. Chop curd into 1 inch cubes and place in a large bowl.
3. Pour hot water gently over curds. Just cover them by an inch or so. Let them sit to warm up for about 2 minutes.
4. Start stirring the curd with a wooden spoon you will see them begin to melt.
5. Once it begins to melt start lifting it and letting it stretch. Then place back in bowl to warm it up and stretch again. You are looking for a smooth, elastic and shiny appearance -- almost like a taffy.
6. Drain and add new hot water. Repeat step five.
7. Begin shaping into a ball, taking care not to overwork too much.
8. Drop ball into an ice water bath to cool and hold its shape.
9. Eat right away or store in water.