Recipes
Fettuccini Carbonara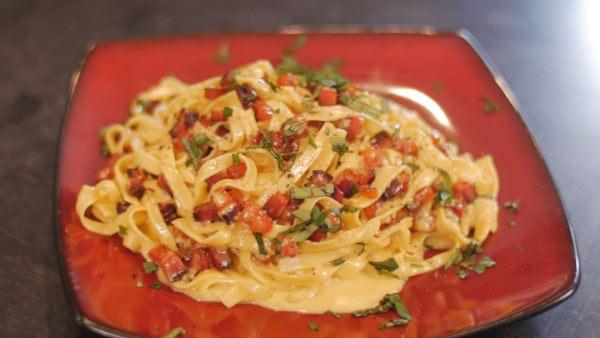 Difficulty: Easy
Provided by: Joe Gatto
1 Fresh Fettuccini Pasta
6 Ounces Homemade Bacon-Cubed
2 Tablespoons Minced Garlic
3 Egg Yolks
1/2 Cup Heavy Cream
1 Cup Grated Parm
Directions
Bring a large pot of salted water to a boil, add the pasta and cook for 4 minutes or until tender yet firm. Fresh pasta cooks quickly. Take about a half cup of pasta water and keep it to the side for later. Drain the pasta and set aside.
Place a non-stick skillet over medium heat. Add bacon cubes and saute for about 6 to 7 minutes, until the bacon is crisp and the fat is rendered. Lower the heat and put in the garlic, sauté for about a minute until you just start to smell it. Do not let it get to brown.
Add the fettuccini to the pan and toss just to coat pasta. Beat the eggs, cream and parmesan together really well.
Take the skillet off the heat and pour the egg/cheese mixture into the pasta, stir quickly so the eggs don't scramble. The sauce will thicken, use the extra pasta water to thin the sauce a bit.
Taste and then season with salt and fresh cracked pepper.
Serve and watch people love fall in love with you as they eat.