Recipes
Dunes of Tatooine Biscuits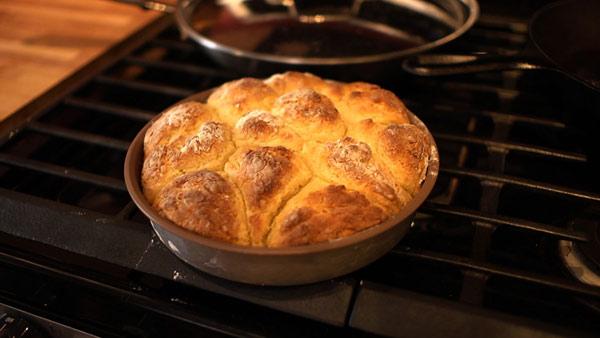 Difficulty: Easy
Time:
Provided by: Steve Sansweet
1 stick of cold butter
3 cups flour
2 teaspoons baking powder
2 teaspoons baking soda
1 tablespoon sugar
1/2 teaspoon salt
1 1/2 cups buttermilk
Honey
Directions
1. Preheat oven to 425.
2. Butter a 9" round cake pan using one end of the stick of butter.
3. Cut one tablespoon off end of butter, set in small bowl and melt butter in microwave.
4. Cut rest of butter stick into cubes.
5. In large bowl, whisk together flour, baking powder, baking soda, sugar, and salt.
6. Remove one cup of flour mixture to an empty pie plate.
7. Add butter cubes to flour mixture in bowl and cut into flour until coarse.
8. Add buttermilk to flour mixture in bowl and stir until just mixed. Do not overwork. It should look like cottage cheese.
9. Using an ice cream scoop, scoop balls of batter and plop into pie plate filled with flour.
10. Using your hands coat ball with flour and bounce back and forth in hands until excess falls off.
11. Place flour coated balls into buttered cake pan starting in the center and placing all balls next to each other in the pan.
12. Bake 20 minutes or more until a toothpick inserted into center comes out clean.
13. Remove from oven, place a plate over the cake pan and flip (use pot holders, the pan is hot!). Cake pan should come off the biscuits easily. Place another plate on the biscuits and flip again so the biscuits are right side up on the plate.
14. Brush melted butter on top.
15. Each biscuit is pulled away from the others. Serve with local honey.
Yields: 10-12 balls