Recipes
Dallas' Best Banana Nut Cake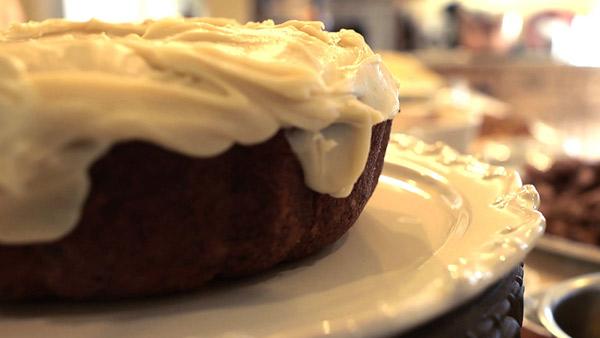 Servings: 8-10
Difficulty: Intermediate
Time:
Provided by: Lynda Sanders
1/2 Cup Butter
1 1/2 Cups Sugar
2 Whole Eggs
4 Tbsp Milk
1 tsp Lemon Juice
1 tsp Soda
4 Ripe Bananas, mashed
1 1/2 Cup Flour
1 Cup Pecans, toasted and chopped
Directions
Make sour milk by combining milk with lemon juice. Set aside. Cream together butter and sugar. Beat vigorously adding eggs, one at a time. Dissolve soda in milk and stir into mixture. Gradually add flour. Beat well and add bananas and nuts.
Pour into greased Bundt pan. Bake for 50 minutes at 350 degrees. Check for doneness. Remove from oven and allow to cool before adding icing.
Icing:
1 1/2 Cups Sugar
3/4 Cup Evaporated Milk
1/2 Cup Butter
1 tsp Vanilla
Slowly bring to boil stirring constantly. Boil 5 minutes being careful to stir to prevent scorching. Remove from heat. Let cool slightly. With spoon, beat to thick consistency to spread on cake.