Recipes
Creamy Chicken Enchiladas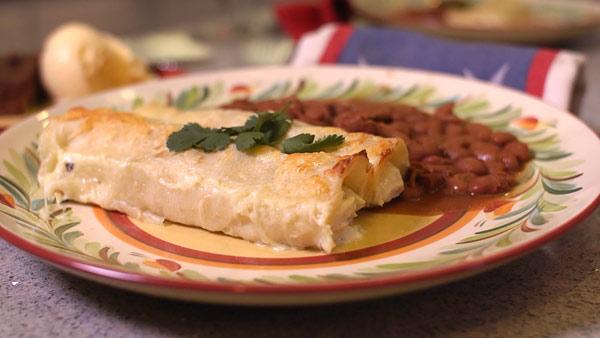 Servings: 8
Difficulty: Intermediate
Time:
2-3 lbs boiled chicken breast, shredded or chopped (Can use boneless skinless or bone in)
1 stick butter
1/2 C diced onion
8 oz light cream cheese (I prefer Philadelphia 1/3 less fat)
8 oz light sour cream
1 can green chiles
1 lb Monterey jack cheese
2 pints whipping cream
Flour tortillas - 12-18 depending on size
medium size works best
Directions
1. Boil chicken until cook all the way through. For bone-in chicken, this takes about 35-40 minutes. Fill a large stock pot with water, add a heaping pinch of salt, add chicken, and bring to a boil. Drain water, let cool, and pull chicken off the bone and shred. Set aside.
2. Melt butter in a large skillet and sauté onions on medium heat.
3. Add cream cheese, sour cream, and green chiles. (and diced jalapenos, if desired)
4. Melt all ingredients together and add shredded chicken. Let simmer for about 10 minutes to combine all the flavors.
5. Remove mixture from heat and let cool for about 5 minutes before filling tortillas.
6. Heat oven to 350 degrees and lightly grease 9x13 baking dish. (If you oiled the tortillas, there's no need to grease pan). (may also need another small dish for excess)
7. Fill tortillas with a large spoonful of chicken mixture and roll. Place rolled tortillas in baking dish.
8. Cover enchiladas with jack cheese and whipping cream.
9. Bake for 30 minutes (cheese should start to turn golden brown)
10. Serve with your favorite side dishes and enjoy! Very filling and 'not for those with high cholesterol!'
Optional: Oil -- original recipe calls for heating tortillas in oil before rolling. If using fresh or soft tortillas, this step isn't necessary. If you choose to do this step, get oil very hot and heat tortillas, about 10 seconds on each side and keep warm before filling and rolling. You can also add diced jalapenos for spice.
Party Tip: Enchiladas can be assembled ahead of time -- just leave off the cheese and whipping cream until ready to cook. Cover tightly and store in fridge. Before baking, remove from fridge, add cheese and whipping cream and bake. Be cautious of putting a really cold pan into a hot oven. I usually don't preheat the oven when I prepare them ahead of time -- may need an extra 5-10 minutes without preheating.