Recipes
Colcannon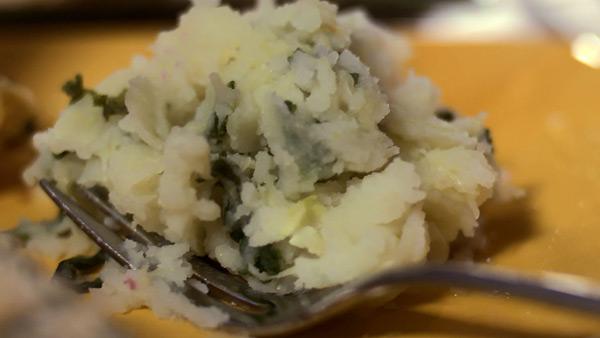 Difficulty: Easy
Time:
Provided by: Patti Leonard
8 potatoes (russet if steamed, Yukon gold if boiled)
1 small head of cabbage chopped
1 large onion chopped
2 tbsp butter
Milk, butter, salt pepper to taste
Directions
Peel, quarter and boil the potatoes until tender.
Quarter and chop up cabbage -- boil in lightly salted water until tender, about 20 minutes.
Meanwhile, saute the onion in butter until slightly caramelized in a skillet.
Drain and mash the potatoes using warm milk and the rest of the butter.
Drain the cabbage well and add to the potatoes.
Add potato mixture to the onions in the skillet and mix well.
Hide a ring in a piece of parchment paper before serving -- the one who finds it will be married in the coming year -- or will have good luck.
Lyrics to the Traditional Song:
Did you ever eat colcannon
When 'twas made with yellow cream
And the greens and scallions blended
Like the picture in a dream?
Did you ever scoop a hole on top
To hold the melting cake
Of clover-flavored butter
Which your mother used to make?
Did you ever eat and eat, afraid
You'd let the ring go past
And like some old married sprissman
Would get it at the last?