Recipes
Cheesy Scalloped Potatoes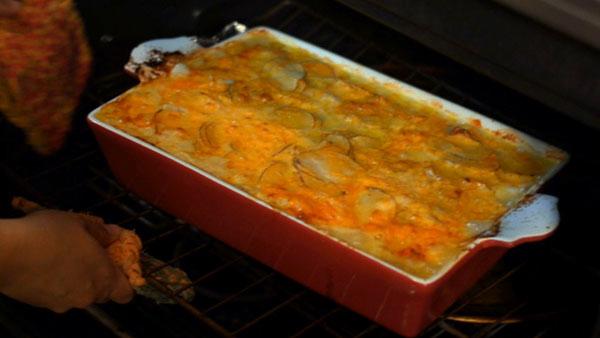 Servings: 12
Difficulty: Easy
Time:
Provided by: Deanna Morauski (theoldhen.com)
2.5 pounds of russet potatoes
1 large yellow onion
1 cup milk
1 cup heavy cream
3/4 cup flour
1 1/2 teaspoons of salt
1 1/2 teaspoons of pepper
1 cup sour cream
5 cups grated cheddar cheese (divided)
Directions
Rinse and scrub about potatoes until clean.
Prepare a large bowl by filling with cold water and a couple of teaspoons of salt. Set aside.
Cut potatoes in quarters along the length of the potato. Cut out any undesirable spots. Using a mandolin or the quicker and easier food processor, slice potatoes thinly. Place slices into cold salt water after each potato to prevent browning. Slice yellow onion thinly and place into a very large separate bowl.
Preheat oven to 350F.
Pour milk and heavy whipping cream into a medium bowl. Whisk flour into cream mixture. Add salt and pepper and whisk again. Drain water from potatoes.
Next, place sliced potatoes, cream mixture. Add sour cream and 3 cups of grated cheddar cheese into the large bowl with onions. Using hands, combine all of these ingredients very well.
Prepare baking dish (size 9 x 13 inches or comparable) by spraying with non-stick spray or smearing well with butter.
Place a layer of potato mixture into baking dish. Then, from the remaining 2 cups of cheddar, place a layer of cheddar cheese. Make about 3 layers total with cheese between each layer then pour any remaining cream mixture over potatoes.
Finally, layer top with remaining cheese. Loosely cover potatoes with foil for the first 1-1/2 hours of baking so the top layer doesn't over bake. Remove foil after 1 1/2 hours. Bake for about two hours total or until a fork poked into middle of potatoes comes out easily.
It's a good idea to put a baking sheet on the oven shelf underneath your scalloped potatoes in case they overflow.
For a fancier flavor, you can add some Gruyere or Comte cheeses in place of some of the cheddar, 1/4 cup of white wine in place of 1/4 cup of the milk, or add freshly chopped herbs or ham.
Serve while steamy hot.