Recipes
Cara's Spaghetti and Mean-Balls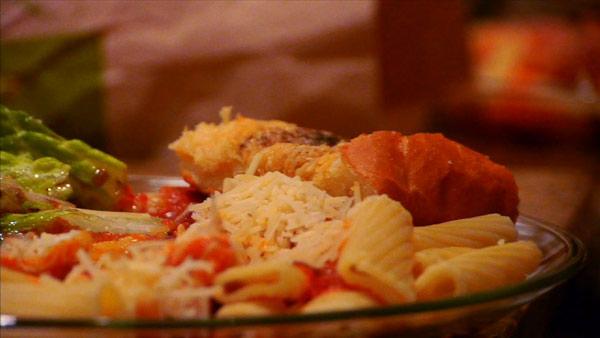 Servings: 15 - 20
Difficulty: Easy
Time:
Provided by: Cara James
1 Yellow Onion
Salt to taste
Pepper to taste
2 Tablespoons (or More) Garlic Powder
1 1/2 Tablespoon (Or More) of Dried Oregano
1 1/2 Tablespoon (Or More) of Dried Basil
1 Packet of Sweet and Low or 1 Tablespoon Granulated Sugar
3 Big Cans of Tomato Paste or 6 little cans (Canned of any brand)
2-29oz Cans of Tomato Sauce (Canned of any brand)
1 big can Whole Tomatoes (Canned of any brand)
Olive Oil or Vegetable Oil
Ingredients for Meatballs
3 Pounds of 80/20 ground beef (May go with leaner ground beef if desired)
6 Italian Sausages
1 Cup of Romano/Asigo/Parmesan Cheese (A blend is good to use)
1 Bundle of FRESH parsley. (Any fresh is fine)
2 Eggs
Bread Crumbs (Plain or Italian Blend)
Milk
Directions
In a five-quart pot heat oil on medium high heat. Sliced 1-2 yellow onions (depending on your preference). Cook onions for about 3-5 minutes just until clear. Remove from heat.
Add oregano, basil, garlic powder and pepper to onions. Stir until well blended up add back to a LOW heat. (Be careful NOT to burn your spices, it will ruin the sauce)
Cook the onion and spices and oil together for about 2 minutes.
Add ALL the cans of tomatoes, sauce, and paste to the pot. For EACH can opened, match the can with water, EXCEPT the whole tomatoes which have plenty of "juice" in the can. Make sure you smash them up with your hands when tossing in the pot.
Stir everything up and bring your sauce right up to a boil. It will take awhile for the tomato paste to break down so be patient.
Once brought to a boil, simmer on medium low (don't burn your sauce) for 2 -2.5 hours.
Go ahead and add your sausage at this time. In a large bowl add your 3 pounds of Hamburger, 5 ounces of cheese (more or less), 1 -2 cups of fresh chopped parsley (finely chopped), 2 eggs, 1/2 cup milk (any), bread crumbs for binding.
Mix all together (with your hands) Meatballs should be moist, but not wet. You can add breadcrumbs if too wet and more milk if too dry.
Stir your sauce real good and start rolling your meatballs. Any size is fine. Drop RAW meatballs into sauce. DO NOT STIR for 30 MINUTES. You don't want to turn your sauce into a "meat sauce."
Simmer for another 2.5 hours.
SERVE with your favorite pasta!
This sauce is AMAZING the next day, and the day after that and the following day!
Any extras freeze in LARGE Ziploc bags and save the sauce and balls for lasagna, stuffed manicotti and meatball sandwiches!