Recipes
Campfire Apple Pie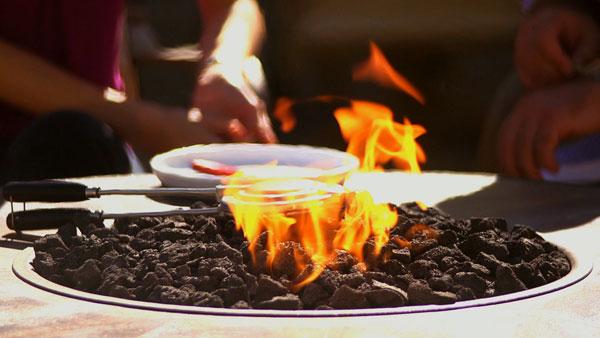 Servings: 1 to 3
Difficulty: Easy
Time:
Provided by: Virginia Cha
1 apple
3 tablespoons of salted butter
4 tablespoons of brown sugar
1 tablespoon of cornstarch
2 slices of white bread
Pinch of cinnamon
Cooking spray
Directions
Heat a nonstick pan on medium heat. Add 1 1/2 tablespoons of butter. Peel, core, and chop the apple into cubes. Once the butter has melted, add the chopped apple and toss to coat. When the apple has softened a little (about 5 minutes), add the brown sugar and cinnamon, stirring constantly.
When the sugar has melted and the apple is cooked through (2-3 minutes), make a small space in the center of the pan and add a 1/2 tablespoon of butter. Let it melt and then add the cornstarch. Stir the cornstarch and butter for a couple of minutes and then stir the apples and sauce. Remove from heat.
Cut off the crusts from the bread and butter one side of each slice.
Thoroughly coat the inside of the pie iron with cooking spray. Then, place a slice of bread on the iron, buttered side down. Add 2-3 tablespoons of apple filling (don't overfill) and then place the other slice of bread on top, buttered side up.
Close the pie iron and cook over an open flame until golden brown. Cooking time will vary depending on pie iron and flame, but about 4 minutes on each side is average. You can open the pie iron a little and peek to gauge how fast it is cooking.