Recipes
Cajun Deep Fried Turkey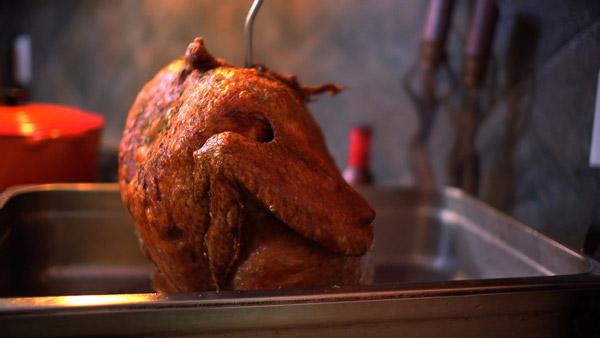 Servings: 15-20
Difficulty: Easy
Time:
Provided by: Dyrell Hatcher, Real Men Cook
12-15 pound turkey, rinsed and patted dry, room temperature
Melted butter
Lemon juice
Cajun seasoning
3 gallons peanut oil
Directions
Blend together the melted butter, lemon juice and cajun seasonings for the injection mixture -- but feel free to make up your own. Use a marinade injecting syringe or turkey baster with an injector tip to inject the marinade all over the turkey, especially at the joints.
Measure the amount of oil needed by lowering the turkey into the fryer and filling with enough oil to cover it.
Heat the oil to 365 degrees. Slowly lower the turkey into the oil using the hanging device that comes with the with the turkey deep fryer.
The turkey should be completely submerged in the oil.
Cook for 3 minutes per pound.
The turkey is done when the temperature in the thick part of the breast reaches 180 degrees.
Turn off the flame and carefully remove the turkey from the oil. Drain the turkey well.
Allow the turkey to rest for 20 minutes before carving.