Recipes
Sausage Patty Sandwich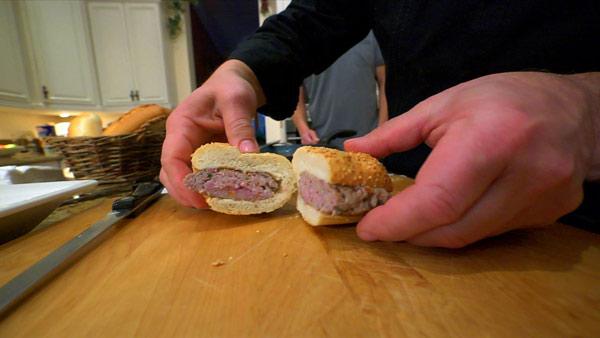 Difficulty: Intermediate
Provided by: Uncle John
10 Lbs ---- Pork Butt Or Shoulder
4 Tbs ---- Fennel Powder
4 Teas ---- Crushed Red Pepper
5 Tbs ---- Salt
2 Teas ---- Black Pepper
2 Cups ---- Grated Cheese (Romano)
1/2 Cup ---- Small Cubes Of Romano
2/3 Cups ---- Tightly Packed Chopped Fresh Parsley
4 Cups ---- Ice Cold Water
Directions
Cut pork into two inch sized cubes, leaving some fat (But remove tendons).
Place meat and cold water into large mixing bowl. Now add all ingredients to the meat and cold water and mix very well. Put entire mixture through a meat grinder.
Make hamburger sized patties and wrap individually in tin foil. Place about 6 patties at a time into a zip lock bag. Allow to rest in refrigerator over night. Next day place all full bags into freezer until ready to use.
NOTE: If you do not have a meat grinder you can also just buy ground pork or even ground chicken and use all other ingredients to make your patties.
Take patties out of the freezer, and run each one under cold water so foil comes off easily. Preheat frying pan to about med-high. You can use olive oil, I like using just a thin layer of tap water in the pan.
Place patties in pan and cover.
Allow to cook until golden brown, then flip and brown the other side as well. Make sure patty is not raw, but light pink is actually OK -- NOT OPAQUE.
Place your patty on Italian bread or roll and enjoy.