My Family Recipe Rocks Episodes
Wild 'Off Road' Riding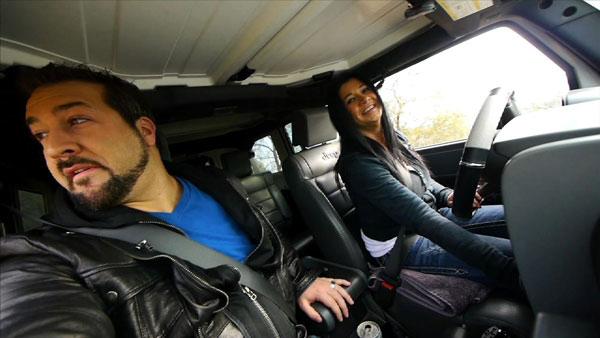 While the sauce cooks, Cara takes Joey for a wild ride in her off-road, lifted Jeep. Some like cruising the hills and streams, but Cara likes to climb the rocks.
Cara takes him up hills and down the road, showing Joey how to four low in her ride. She lives in central California surrounded by the Sierra Nevada Mountains, Sequoia National Park and Yosemite National Park. There are thousands of miles of beautiful terrain, lakes, streams and mountains. Most people like to off road in the streams, mud, sand, but Cara likes the rocks. Joey tries to be brave while Cara climbs the rocks in her Jeep.
They go back to the house where the sauce is ready and it's time to drop the pasta. Cara likes rigatoni because it holds the sauce and it's easier to eat. She also makes garlic bread from her dad's 'hot bread' recipe and a tossed green salad. Cara explains to Joey what 'al dente' is. "It's basically a little 'stiff' Joey, 'a little stiff,'" said Cara.