My Family Recipe Rocks Episodes
TV journalist Virginia Cha's Favorite Family Recipes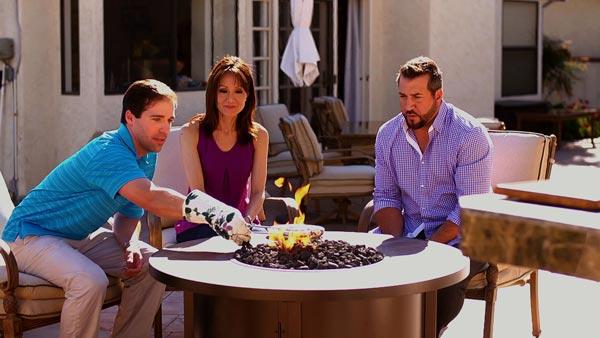 Joey Fatone cooks it up with top notch TV journalist Virginia Cha of San Diego's 10 News and her husband, Ed. They share their favorite family recipes.
Virginia is a veteran anchor woman reporting for NBC Nightly News, MSNBC, and CNN, but the perfect weather and a chance to work with San Diego's best news team brought her and her family to a place where life is good and the salt air stings the nostrils -- in a good way.
"You know everything they say about San Diego -- just how beautiful it is and the temperature and the weather is great and the people... it is true," said Virginia.
Virginia has been stationed in quite a few markets -- New York, Atlanta, Boston and now San Diego, a city with all the right ingredients for her and her family to call home. She and her husband, Edward, were gratuitous enough to let Joey into their home so he could try a few of their family favorite dishes.
Virginia's husband Ed starts off by making a margarita with an Italian twist!
"We have some very dear friends back in Atlanta, Georgia, and we made this almost every weekend. We would hang out with them, causal, you know, backyard, summer time and we came up with this. It is a little bit of a change from your standard margarita," said Virginia.
After Joey and Ed bond over both being Italian, Ed gets to work mixing up the cocktail. His secret ingredient is limoncello!
Then, Virginia gets back to her Korean roots by sharing her recipe for Pajeon -- a traditional pancake-like dish in Korean cuisine. While there are many variations of Pajeon, Virginia's is a scallion based version with a few special ingredients.
"I was trying to think of things my mother used to make. She was a great cook and made a lot of traditional Korean cuisine. This is one that jumped out because she did it often and she taught me how to make it. It is a staple. If you go to a Korean restaurant, they are going to have this dish," said Virginia.
Virginia has put her own spin on her mother's recipe. She likes them to be crispy so she adds a little bit of flour to the batter. She also adds kimchi, which is a spicy pickled cabbage, to give the pancakes some heat. When they are done cooking, she tops them with her homemade sauce.
Then, it was time to tackle Ed's salmon puff pastry -- a dish that has quite a bit of history between Virginia and Ed. It was first dish Ed cooked for her.
"The salmon puff pastry was something my mom made and it was my favorite dish she made. So when I met Virginia I was thinking of what I could do to impress her," said Ed.
"We had just started dating, it had been maybe a couple of weeks, and he invited me over and said he was going to cook dinner for me," said Virginia.
After struggling a bit to make this for Virginia for the first time, Ed has now mastered the recipe. He tops salmon with stone ground mustard and spinach and then wraps it in pastry dough. This dish is a hit with Joey!
And for dessert, Virginia and Ed have come up with a recipe called Campfire Pie. This recipe is a fun way to build an individual pie and cook it over an open flame. All you need is some bread, your choice of filling and a pie iron -- a cooking device with two cast iron plates that form into an enclosed compartment. It can turn an ordinary sandwich -- savory or sweet -- into a toasted work of art. It is perfect for your next camping trip or backyard fire pit.
After Ed and Virginia stuff two pieces of white bread with a cinnamon apple mixture, they head outside to cook it over a fire.
"I have never gone camping but I think I want to go camping just so I can have this," said Joey.