My Family Recipe Rocks Episodes
Soul Food in Washington D.C.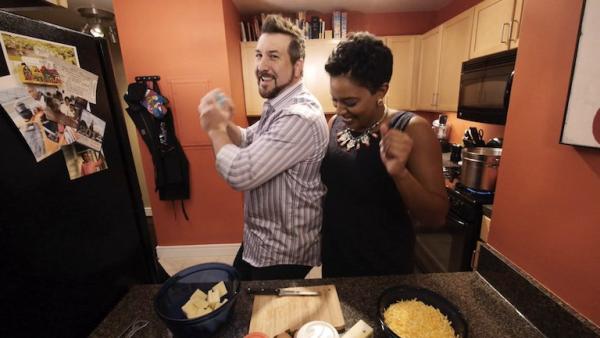 Joey Fatone travels to Washington D.C. to visit lawyer and food blogger Johnna Rowe for some very special soul food recipes. On the menu is macaroni and cheese, collard greens, drunken BBQ ribs, and warm banana pudding. Remember, when you're cooking soul food, you just have to feel it!
Johnna Rowe is a lawyer and food lover living in Washington D.C., but she also has a blog called "Johnna Knows Good Food." So when Joey Fatone stopped in the nation's capital, he met with Johnna to find out about her special soul food recipes. The term "soul food" refers to Southern-style favorites, a term coined in the 1960s. One thing about soul food is that it doesn't require exact measurements to make the recipes. Instead, you simply put in what you feel is right. Johnna says it's important to cook while you're in a good mood and infuse everything you make with love. First on the menu in Johnna's home kitchen is Sugar Hill Mac and Cheese. The recipe is based on the neighborhood where Johnna grew up in New York's Harlem neighborhood. "Harlem is like the epicenter of soul food when you think of New York City," says Johnna. The dish includes a surprising ingredient: evaporated milk! Make sure you shake that can of evaporated milk, and if you're Joey, you can do a little dance, too! The next part of Johnna's soul food meal is her Aunt Dot's Greens. "Aunt Dot's Greens are the best collard greens you'll ever have," says Johnna. First, Joey and Johnna put some turkey necks into a pot of boiling water. After the turkey necks are boiled, the tender meat will become the base in which the greens will be cooked in. As they wait on the boiling turkey necks, Joey starts the tedious yet important task of hand washing the greens about three to four times because you don't want to serve dirty greens to your loved ones! With some time to kill while they wait for the greens to cook, Johnna gets started on her Get 'Em Drunk Ribs. These country-style pork ribs are seasoned and slow-cooked with a special sauce recipe. The most important sauce ingredient? Bourbon. Johnna uses a maple-infused bourbon for extra flavor. "They're going to come out falling off the bone," Johnna says. The mac and cheese, greens and ribs have finished cooking, and it's time for the taste test in Johnna's kitchen. Johnna and Joey are now joined by a special guest, Johnna's boyfriend Cameron, who is a big fan of Johnna's cooking. "You can taste every bit of love and attention that she's put into everything and it just turns into a wonderful evening," says Cameron. Now that they're all in the kitchen, they serve the food and try all three dishes. "Bon appetit," says Joey. Joey enjoys the food so much that he has to give Johnna a big hug. After dinner, Cameron lends a hand in making dessert, which is Carolina Warm Banana Pudding. This creamy pudding topped with crispy meringue is a great finish to this soul food meal and only takes 10 minutes to make! One of the most important parts of soul food is sharing it with your friends and family, so Johnna has invited some of her friends over to try her pudding with Joey. Now it's time for a party! Joey has a taste and gives it his stamp of approval. "Wow, that's sick. That is awesome. That is really good," Joey says. While all of Johnna's recipes have multiple ingredients, the secret ingredient to all of them is love. Everyone in the room is able to taste the love that was put into making these meals, and Joey is going to sprinkle love as an ingredient into all of his dishes from now on. To check out Johnna's food blog, visit
JohnnaKnowsGoodFood.com.