My Family Recipe Rocks Episodes
Joey Tours Star Wars Museum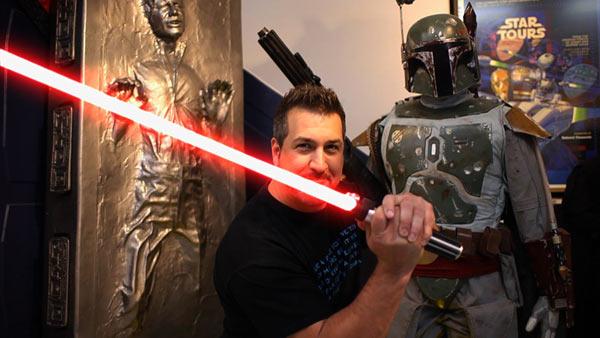 Joey Fatone travels to Rancho Obi-Wan to see the world's largest collection of Star Wars memorabilia and cooks up a tasty breakfast with recipes from the Star Wars cookbook.
In 1977 George Lucas changed the world and the way we watch movies with the release of Star Wars. About the same time, Steve Sansweet started collecting everything from the breakthrough sci-fi movies, including the popular Star Wars cookbooks.
To say the Star Wars franchise has been a pop culture phenomenon around the world would be an understatement. In addition to entertaining generations of die-hard fans young and old, the cutting-edge movies set many of the standards used in film making today with revolutionary special effects and sound editing. Now, a new partnership between Lucas Films and the Walt Disney Company have taken the story of Star Wars into the future.
The first of three new Star Wars movies are coming in 2015 and fans all around the world cannot wait. When you talk about Star Wars fans and memorabilia they collect, nobody even comes close to Steve Sansweet and his mind-blowing Rancho Obi-Wan Star Wars Museum in Petaluma, California.
Steve has been collecting since late 1976, just right before the movie came out. Rancho Obi-Wan was once a real live chicken ranch. In fact, the museum housing Steve's collection used to be a 300-foot long chicken coop. Steve still keeps a few chickens around for fresh eggs, which he uses in the dishes that he makes for Joey.
"I lived in LA, I was reporter and then I got a job with Lucas Films. When we moved up here I looked for a space with lots of emptiness," said Steve.
From set props and fan-made items to toys, story boards, and one-of-a-kind pieces, Steve has it all in his collection of more than 300,000 pieces of Star Wars memorabilia. And, not one piece in his collection is a duplicate!
The museum is broken into three different rooms. Steve, who worked for Lucas Films for more than 30 years, has collected some of the coolest Star Wars artifacts around.
With the fun recipes from the Star Wars cookbook kids and parents can have a great time learning the joy of cooking together. Before the museum tour begins, Steve and Anne Neumann, resident manager of the non-profit museum, prepare a breakfast for Joey using recipes from the famous cookbook.
Anne starts off by making Twin-Sun Toast, which is bread stuffed with a sunny-side-up egg. She serves it with a side of bacon.
<p Then, Anne shows off another dish from the Star Wars Cookbook, Dune of Tatooine Biscuits. They are a light and fluffy and perfect for breakfast.
Back out in the museum, Steve shares stories of how he acquired different pieces throughout his 30 years of collecting. One in particular is the actual Star Wars marquee from the Lowes Orpheum Theater on opening day in New York City in 1977.
"It is interesting because what happened was when they came off a friend of the theater manager got them and he put them up on his son's bedroom wall. They lived in Brooklyn. Years later his kid went off to college and I saw a some ad and I called the guy. I talked to him for about 15 minutes. I knew everything that he said was real and got them but I had no place for them when I lived in LA," said Steve.
The Obi-Wan Ranch is open to the public, but reservations need to be made in advance. Steve only allows small groups at one time, and he personally guides each tour, sharing not only his collection, but his own personal stories and insight into the entire universe of Star Wars memorabilia.
Before Joey and Steve walk through the Tantine IV, they stroll back to the kitchen where Ann is making Admiral Ackbars. They are the perfect snack for a museum tour!
This was a dream come true for Joey who is a huge Star Wars fan!
If you are interested in making a reservation to visit Rancho Obi-Wan, please check out their website for more information at ranchoobiwan.org.