My Family Recipe Rocks Episodes
Joey Fatone and Dancing with the Stars' Kym Johnson Cook with TV Host Rachel Smith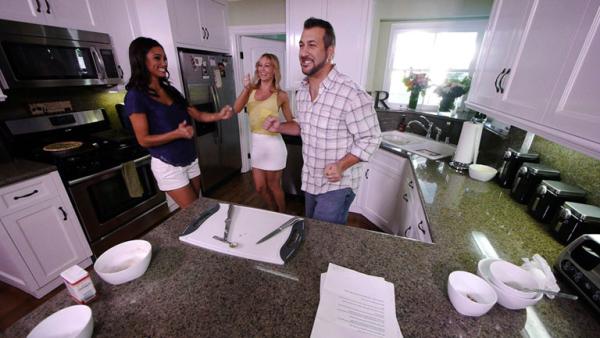 Rachel Smith, host of On The Red Carpet and entertainment correspondent for Good Morning America, welcomes Joey Fatone and his Dancing With the Stars partner, Kym Johnson, into her home to teach them how to make some southern dishes.
Rachel grew up in Tennessee and embraces her roots of warm southern hospitality.
Monkey bread
and
spinach quiche
are some of the comfort foods that she grew to love from her southern family gatherings. She learned her to cook from her family, especially her grandmother.
Rachel is a reigning beauty queen with many titles under her belt. She is Miss Tennessee Teen USA 2002, Miss Tennessee USA 2007 and Miss USA 2007. With just as many accolades from brains as beauty, she graduated magna cum laude from Belmont University in Nashville, Tennessee. Currently her talents showcase her as host of On The Red Carpet (OTRC) and an entertainment correspondent for Good Morning America.
Joey and Kym helped Rachel in the kitchen as she prepared the dishes but it became very clear that Kym doesn't have much cooking experience. She is a professional on the dance floor but not in the kitchen.
"I am dancing in the studio with Joey Fatone every day and he has this great idea to bring alone on his amazing cooking show and get me into his world for the day. He knows that I am not a good cook and that is true, I am sad to say," said Kym.
But, even with Kym's stuggles in the kitchen, they managed to make two delicious dishes -- a spinach quiche and sweet monkey bread.
For more information:
On The Red Carpet
Dancing With The Stars