My Family Recipe Rocks Episodes
Joey Fatone Visits The Old Hen Bed and Breakfast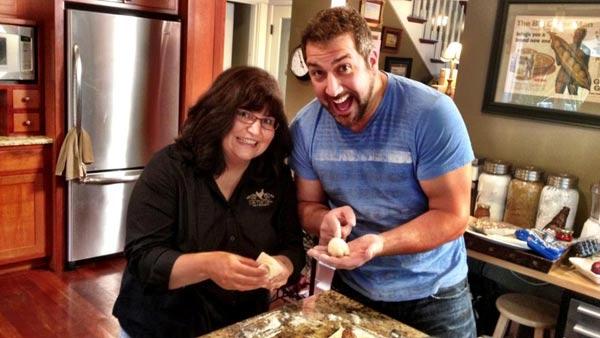 Joey Fatone visits Deanna and John Morauski at their quaint little hideaway in North Bend, Washington. The couple, who owns The Old Hen Bed and Breakfast, cooks up some amazing dishes.
Deanna and John opened their home to guests in 2009. Deanna, who is a food blogger, is an incredible cook. She showed Joey and crew the secret to her
northwest salad
,
scalloped potatoes
,
saucy balsamic burgers
and her
famous mad mud pie
.
When they first began dating 20 years ago, Deanna and John discovered they both loved the idea of opening a bed and breakfast someday. They purchased their home in 2005 and in 2009 they opened their doors to their first guests. Since that time, many guests have returned countless times to the warmth and hospitality they receive at The Old Hen Bed and Breakfast.
Over the years Deanna has perfected some incredible dishes that have everyone asking for more. The couple discovered the saucy balsamic burger at a local restaurant -- but Deanna has put her own twist on the burger. When Joey tried the bed and breakfast favorite he was literally knocked off his feet!
Deanna started making her famous mad mud pie at her annual Christmas party. It soon became a tradition that she served the incredible dessert every year. Joey was a big fan of this sweet treat!
For more information about the Old Hen Bed and Breakfast visit theoldhen.com. And, click here to check out Deanna's blog about Joey's visit.