My Family Recipe Rocks Episodes
Joey Fatone Judges DO-AC BBQ Championship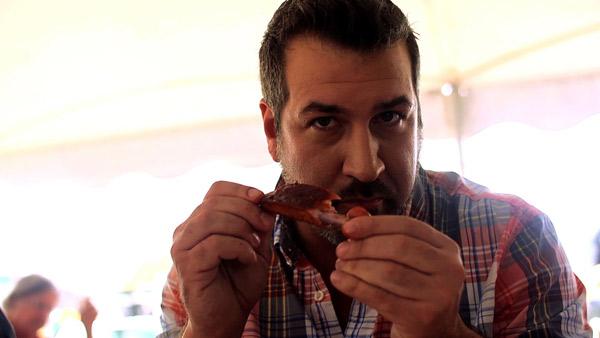 After Joey Fatone went through hours of training to become a BBQ judge, he puts his knowledge to the test at the DO-AC BBQ Championship.
The championship pits the best in ribs, brisket, chicken, and pork in an all-out competition that really smokes. There's no half-stepping here, only the finest in barbecued meats, competing for a grand prize of $10,000 and the bragging rights of being crowned grand champion.
As Joey learned, judging BBQ is definitely a science. With so much great food to taste, judges usually only take one to two bites of each entry, jotting down their first impressions of taste and presentation. They don't compare one entry to another. Instead, they take a bite, chew and grade the taste with a number between one and nine.
All the scores for each category are entered into a BBQ super-computer and the winner is tabulated.
"First it was chicken. They told me don't eat the whole thing. Take a bite, fine. Second was ribs and they were good. They told me again, don't eat all of it. With the ribs, they aren't supposed to fall off the bone. There should be a little tug. Third was pork. That's where I started to slow down a bit. It is good, it's tasty but then all sudden I was like, 'OK, we're done, right?' No, we have to do the brisket," said Joey.
The grand champion of the DO-AC Smokin' Hot BBQ Championship winner was Chick, Swine, and Bovine!
Atlantic City is really one of those destinations the entire family will enjoy from the historic boardwalk, to the beautiful beaches, good food and unique events, like the rodeo and BBQ competitions. For more information visit www.atlanticcitynj.com.