My Family Recipe Rocks Episodes
Joey Fatone Explores Atlantic City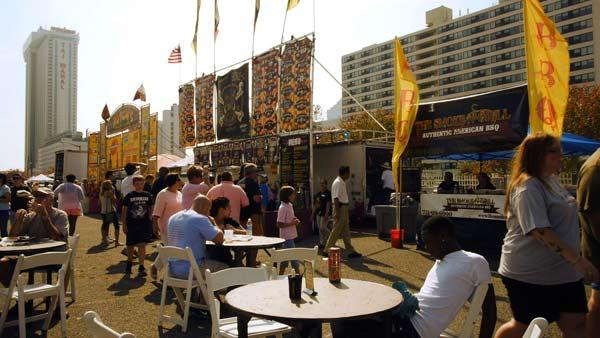 Joey Fatone had an entire day before the BBQ competition began, so he decided to 'DO AC'. From tasting all the delicious food on the boardwalk to exploring the aquarium and watching a rodeo, Joey discovers there is a lot to do in Atlantic City.
Joey's first stop was at
Chickie's and Pete's
for some famous crabfries. Thirty years ago, with some leftover seasonings from their crab season, the owner tossed the fries with the crab seasoning. It quickly became a crowd favorite. Today, the restaurant sells about 3 to 4 million pounds of crabfries per year.
To satisfy his sweet tooth, Joey stopped at a place that actually originated on the Jersey Shore in the late 19th century. James' Candy Company is stocked with everything from their world famous salt water taffy to chocolates, fudge, and macaroon cookies.
"It was invented here in Atlantic City on the original boardwalk and a taffy merchant was closing his shop one night and a storm came up and soaked his whole stock of taffy and the next morning a little girl came up and said, 'Hey sir, can I have a piece of that salt water taffy.' And the name stuck," said Lisa, James' Candy Company.
The Atlantic City Boardwalk is definitely where most of the action takes place on the Jersey Shore. Atlantic City is home to some great seaside eateries but just off the boardwalk you'll find great shopping, restaurants and places the entire family will enjoy, like the Atlantic City Aquarium.
Atlantic City Aquarium features more than 100 species of fish and marine creatures. The 23,000 gallon tank showcases the fish for the New Jersey coast, including sea bass, sand tiger sharks, northern stingray, and kingfish. You can get up close and personal with the marine life at the Touch Tank where you can touch everything from a stingray to sea urchins.
"What's so great about it is it is like a hidden gem of Atlantic City. We have lots of features that families absolutely love," said Michelle Bay, A.C. Aquarium.
The Atlantic City Aquarium is a family fun place that brings out the kid in all of us.
With all the exciting things to do in Atlantic City, it's easy to work up an appetite. After exploring the aquarium, Joey headed to a local hot spot just off the boardwalk. Gilchrist is known for their killer food, stellar service, great location, and their blueberry pancakes!
With their secret homemade batter, sprinkled with fresh blueberries, they cook, flip and serve them up by the hundreds.
When you think of Atlantic City lots of great things come to mind, but what's not on the list, are cowboys or rodeo clowns, but when you DO-AC you quickly learn this place if full of surprises.
Joey swings into the Boardwalk Hall for the Third Annual Atlantic City Rodeo. There are seven events that the cowboys and cowgirls compete in bareback riding, calf roping, bull riding, barrel racing and more.
This rodeo is no joke, except for Hippie -- the rodeo clown, but even he has quite the job to do, from helping the cowboys and entertaining the crowd, it's a hardworking job, but somebody's got to do it!
"I am the guy that gets to entertain the crowd. It is a live event and there are animals involved so there are going to be times when things are click, click. So I have to fill in those empty spots with comedy and antics," said Hippie.
With traveling livestock, crew and cowboys and cowgirls, the rodeo delivers one heck of a show with a number of action packed events.