My Family Recipe Rocks Episodes
Joey Fatone Becomes Official BBQ Judge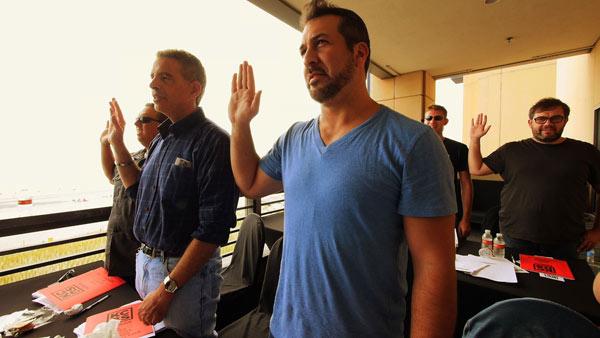 Joey Fatone is in Atlantic City to judge the DO-AC Smokin' Hot BBQ Championship. But, before he can become an official judge, he has to take an intensive course on the rules of judging good BBQ.
The Atlantic City Boardwalk in New Jersey is the backbone of this seaside resort city that connects shopping, resorts, and plenty of great places to grab some food. Even know you've got the sun, sand, and surf right next to the top resorts, like the Showboat Atlantic City, this place is almost always hopping with big events like the DO AC Smokin' Hot Atlantic City Barbeque Championship. Joey Fatone was invited to become an official judge at the event. But first he had to go to BBQ school to get his degree in smokeology!
The Kansas City Barbecue Society held today's class right on the boardwalk, giving Joey the opportunity to get schooled beachside on barbeque 101. From the different types of meat, to tenderness, taste, and presentation, this class would cover everything to get Joey ready to judge the DO AC Smokin' Hot BBQ Championship.
"I think Joey will be a great judge. I think he is going to have a fun time. Eating some of these team's BBQ is going to be great," said Don Harwell, BBQ instructor with Kansas City BBQ Society.
From the types of cookers used to the cuts of meats and contest rules and how to accurately judge on game day, competition BBQ is extremely involved. As a judge it is important to understand the process so each cook gets an honest score. There is a lot more to judging competition BBQ than just eating lots of great food lessons Joey was ready to test at the DO AC Smokin' Hot Atlantic City BBQ Championship.
So after two hours of teaching and two hours of eating, Joey became an official BBQ judge!