My Family Recipe Rocks Episodes
Frankie Moreno Cooks Up Recipes That Sing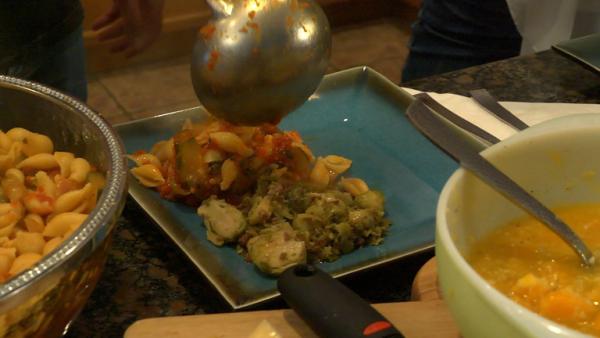 Joey Fatone visits the home of Las Vegas superstar Frankie Moreno for some time-honored, traditional recipes. Moreno and his wife, Becky, prepare a tasty menu for Joey -- zucchini marinara pasta, brussel sprouts and a orange and lemon dip.
Frankie Moreno and his brothers, Ricky and Tony, have been honored with the "Entertainer of the Year" award for their stellar performances at the Stratosphere Hotel in Las Vegas. They just signed a new multi-year deal through 2015 to perform their unique brand of original music and other show tunes.
Every Sunday, Frankie has his family over for dinner. They usually prepare family recipes that his grandmother used to make.
Frankie and his wife, Becky, wanted to make something special for Joey. They make zucchini marinara pasta, which simmers on the stove for hours to create an incredible flavor. And, he shares the secret to making tasty brussels sprouts -- prosciutto and garlic. Then, they show Joey how to make his grandmother Lillian's famous orange and lemon dip, a sweet tangy burst of flavor that you put on French bread.
While Joey and Frankie are busy in the kitchen, Moreno's good friend comedian Carrot Top stops by to perform a little lawn care and take a dip in the pool. His girlfriend Amanda made "Carrot (Top)" cupcakes to top off the amazing meal in the Moreno kitchen.
Frankie is the middle child of five sons whose father and grandfather were always playing music. Along with two of his younger brother's, Tony and Ricky, the trio has teamed up to take the musical world by storm with their smooth voices and unique sound. Frankie is coming out with an album later this year. For more information visit www.frankiemoreno.com. Frankie Moreno now available on iTunes.