My Family Recipe Rocks Episodes
Chirba Chirba Dumpling Truck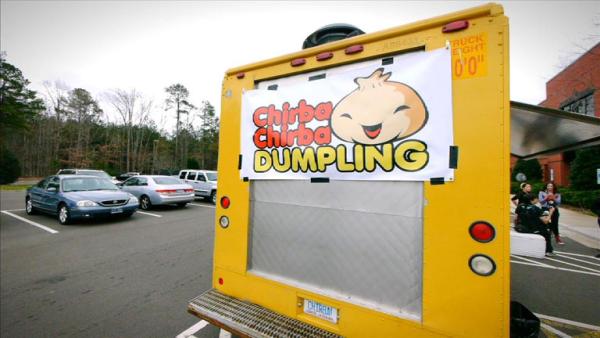 Durham, North Carolina, is known for tobacco, a great minor-league baseball team and incredible southern food. It's also becoming known as one of the best places in the U.S. for the fast-growing Food Truck Movement. Joey spent the day with one of the new stars of this exciting food-scene in Durham, The Chirba Chirba Food Truck.
Meaning "eat, eat" in Mandarin Chinese, Team Chirba Chirba brings high quality Chinese-style dumplings made from an old-family recipe to the hungry lunch crowds of Raleigh/Durham. Joey rode on the truck and worked the fast-paced lunch hour mob along side the Chirba Chirba professionals.
Co-Owners Yin Song, Nate Adams, Ali Safavi and Chela Tu came together while students at University of North Carolina. Their love for Asian food and cultural connections to China prompted them to go into business together.
Twitter and Facebook are a large part of Chirba Chirba's marketing plan. They tell fans when and where the truck will be on the social media websites. Follow @ChirbaChirba on Twitter and check out their fan page on Facebook at facebook.com/chirbachirba.
For more information on Chirba Chirba visit their website at www.chirbachirba.com.
The Chirba Chirba truck is part of a larger, nation-wide food-truck movement that is sweeping the land.
To locate a local Food Truck in your area visit:
foodtrucksmap.com
mobimunch.com
For Chicago Food Trucks visit:
foodtruckfreak.com
For Washington DC Food Trucks visit:
foodtruckfiesta.com
For Los Angeles Food Trucks visit:
findlafoodtrucks.com
Or to get started with your own food truck check out this website concessiontrailerswarehouse.com.