Motion Episodes
Motion Guest Overcomes Fears, Goes Scuba Diving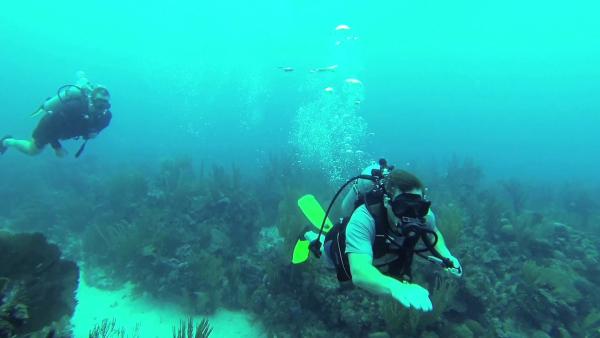 Self-described workaholic Shiloh Janes was terrified to go scuba while visiting Belize with host Greg Aiello. After a few hours of training, he faced his fears and plunged into the ocean.
Greg and Shiloh plan to dive on a world famous reef, get up close and personal with jungle wildlife and discover the Maya ruins of Belize.
There's nothing quite like the Caribbean. It is a popular escape for travelers in search of crystal clear waters, white sand beaches, cool drinks made of rum and the warm tropical sun.
Belize is a small Caribbean country on the coast wedged in between Mexico and Guatemala. It has become wildly popular as a travel destination for those from the U.S. with direct flights from cities like Dallas and Miami.
Winter is the time to come here but an unseasonable wet December turned the Motion crew's trip soggy. But it would take more than a heavy, soaking, torrential, non-stop rain to dampen the spirits of guest hiker Shiloh Janes. He runs the dispatch for the family's trucking business in Oneida, New York, and he hasn't been on a vacation in 11 years!
"My father started a trucking business when he was 18. He is a workaholic but passionate. When I was born, I didn't know any better than to get right into it. We took a family cruise about 11 years ago. That was amazing. It was seven days but we were ready to go back to work," said Shiloh. "I have been working non-stop since then, 11 years. I work six days a week and Sundays are easy -- there is only about two hours of work."
Like a lot of visitors of Belize, they made plans to stay off coast on a tiny island known as St. George's Caye. The St. George's Caye crew picked them up from the airport in a van along with several other guests to take them to a small boat for the seven mile ride to the resort.
For Shiloh, the phone call telling him he was going to be the next Motion guest hiker was the kind of motivation he needed to change what sitting behind a desk had done to his body.
"I have softened up a little. I need to get back in shape. This is the motivator I need. Because in New York in the winter, you shut the door, put sweat pants on and eat ice cream and watch TV. That's what you do for about five months -- no big deal," said Shiloh. "I was miserable for a few months. I ate soup for dinner and salad for lunch and I lost 12 to 15 pounds. As soon as I got the call it was a game changer."
The crew was greeted at the dock by general manager of St. George's Caye Resort with a few fancy tropical cocktails. From the time they stepped off the boat, they knew they were in good hands.
This resort is the only one on this small island, which is barely a mile long and only yards wide. So when you check in here you instantly feel solitude -- the quiet and piece of the Caribbean.
Sunrise the next day brought the return of threatening skies and a forecast of rain. But that didn't stop them from heading out to explore the Lamanai Maya Ruins -- a lost city nearly 3,500 years ago. The rain let up just as they met up with Lamanai Eco Tours -- a company that runs visitors up river to the ruins site. The river boat is the only way you get to this lost city.
"I had no idea there was going to be the amount of wildlife. He throws some bananas out on the boat and the monkey comes down and takes them," said Shiloh.
Once they arrived they used the well-marked trails to see several structures that were excavated in the 1970s, giving visitors a look back in time at this once great civilization.
The jungle at Lamanai is dense. The trees are huge and sheltered them from the heavy rains as they approached their first ruin site -- Mask Temple. Temples like this were built over hundreds of years and were part of the royal complex of structures where Maya rulers lived. Mask Temple was once the site of a once largely misunderstood aspect of Mayan life -- human sacrifices.
"It wasn't something that happened every day. He was talking about the ending of the calendar. Those would have been a case where they would sacrifice something," said Carlos, the tour guide.
The next stop on the Lamanai trail led through more dense jungle. As the rains finally began to let up, they emerged in a clearing and the tallest structure in Lamanai stood before them -- Mighty High Temple. At over 100 feet tall, it offers stunning views of the jungle below for those ready to scale these steps.
The large steps on the temple were built for a reason as commoners descended into the summit for sacrifice or to pay respect for the Gods the steep angle and size of the steps forced those climbing to a submissive hands and knees approach to the top.
The rest of the hike through Lamanani took us through the remains of the palace, the courtyard where an ancient game was played and other important sites to the Mayan people.
Belize is well known for its beaches and barrier reef but the river boat run to the ruins is definitely a Motion must do.
Even though the weather was still not cooperating, Greg and Shiloh decided to get their scuba training in case the weather cleared up. St. George's Caye Resort has an impressive dive shop and the third largest barrier reef is a mile away.
This short class would be all Shiloh would need to be ready to scuba dive 40 feet below in one of the best dive spots in the world.
"So we are headed out. It is the real deal now. It is game on. The training the pool... that's nothing when you are on a boat and you are going out across the water -- this is going to happen now," said Shiloh.
This was a big moment for Shiloh. He was facing his fears of the water and going for it.
"Once I got down there, I focused on my breathing -- that's all your thinking about in the beginning until that becomes natural. And, everything just slowed down. Everything that I had been told would happen, it did. You stop noticing that your goggles are on, the claustrophobia goes away, and it just got very tranquil and calm. And we just started cruising," said Shiloh.
They dove near the edge of the reef where the ocean's depths quickly fell. They found a few trenches and grottos to explore. In one of the trenches, Greg spotted a nine-foot nurse shark that swam the warm waters of the reef.
Diving opens up a whole new world of discovery and the easy course offered by St. George's Caye Resort make this a world we can all experience.
"I accomplished what I had feared for a month," said Shiloh.
St. George's Kaye just off the coast of Belize is a small island with one resort and a few private homes. A father and son who live on the far side of the island have an in-home aquarium set up to study all types of sea creatures found in the area. From sharks to lobsters and groupers, they seem to have it all.
For more information: