Motion Episodes
Inside Look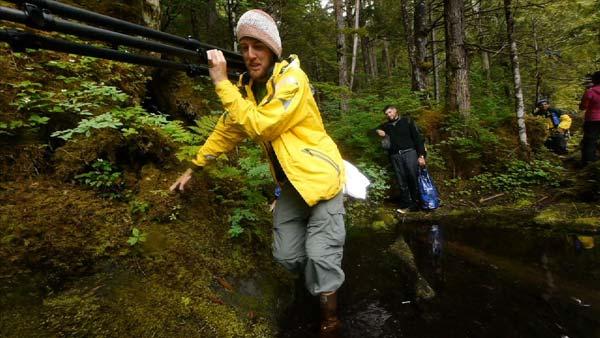 Motion first launched as a new adventure/travel show on Disney's upstart Live Well Network in 2009. Executive producer Jeff Aiello created the series and found the perfect host in his brother Greg, a long-time mountain guide. David Boomer came on board shortly after production began to help with trip-planning, logistics and filming permits. On location, all three share camera duties.
In 2012, an additional camera-operator was added to the crew, Jon Neely, whose skills in DSLR photography helped tell the stories of the newly added 'Motion guest hikers' to the show. Byron Watkins also joined the team as a fill-in producer to cover for Jeff, who now produces and helps develop new shows for the Live Well Network.
A good amount of planning goes into every shoot but the crew has learned to roll with the punches. Ground logistics and weather are always an issue -- so keeping things loose helps everyone with the fast adjustments sometimes needed in the field to keep the shoot moving.
One the hallmarks of Motion is stunning landscape photography. Being able to capture the beauty of these destinations in a way that makes the viewer feel like they are right there with the crew is an important part of the show.
Quality and size are the two driving factors in what kinds of cameras the crew puts in the field since being able to pack everything on their backs is crucial. David Boomer's assignment on location is to grab 'detail shots' -- the close ups that bring the real 'texture' of a landscape to life. David shoots these shots with the Panasonic GH2. Jeff shoots principle landscapes with the Panasonic AF100 -- a new generation of HD camera known for razor-sharp images.
One of the stand-out techniques in making Motion has been what the crew calls the 'Greg handy-cam shots.' Using a Panasonic GH2, Greg's off-the-cuff comments and impressions of the locations are captured with a unique, personal feel that brings viewers into the scene.
Producing Motion has become more than a job for Jeff, Greg and the crew. The inspiration it brings to fans, the celebration of America's wild places and the opportunity to do some good with a show at a time when hollow reality TV series dominate the airwaves, motivates the team to bring in the best episodes they can every time they're in the field.
Even though there's always a fun aspect to shooting an episode of Motion, there is also a sense of responsibility to the viewers to honor each location with the best photography, storytelling and experience for the guest hikers that come along.