Motion Episodes
Humble Beginnings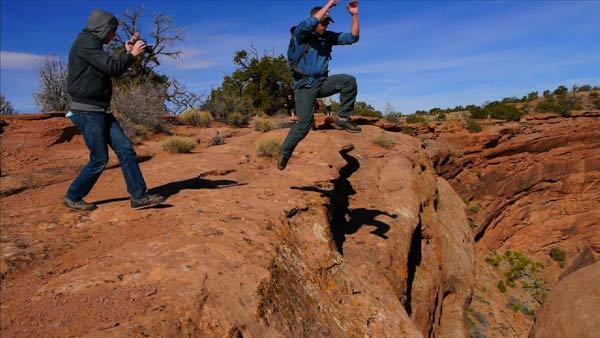 Two brothers combined their different talents to produce a unique kind of outdoor television show.
Motion started when two unlikely worlds came together. Two brothers with completely different backgrounds -- one was a TV producer and photographer and the other was a pro-mountain guide -- created a unique kind of outdoor show that captured America's wild places.
In the world of television, having the chance to produce a totally new kind of show is a rare opportunity. In 2008, the Disney/ABC Television Group was preparing to launch a new network and tapped a handful of its producers to come up with original program ideas. Jeff Aiello, who grew up near Yosemite National Park and was working at the ABC-owned KFSN-TV in Fresno, California, was asked to come up with an outdoor-themed show.
The first two episodes of Motion were produced as 'how-to' shows featuring mountain biking and flat-water kayaking. But after Jeff and Greg shot their third episode in Death Valley National Park, the show's direction began to take a new path -- a path that would require a little more help to explore.
With the Live Well Network in its infancy, destinations for the show remained close to central California to help keep costs down. But in the summer of 2009, the first signs of success began to show, with a steady-stream of viewer emails praising the program, the authentic nature of the host and the stunning photography.
In August of 2009, Motion jumped on the fast-moving train of social media and created a Facebook page for their fans. Facebook gave the show the unique chance to interact directly with the growing fan base, sharing pictures from locations and video teasers of upcoming episodes. This interaction with people that were becoming die-hard viewers led to skyrocketing Facebook fan numbers and to a loyal world-wide group that today calls itself 'The Motion Nation.' Become a fan of Motion on Facebook at www.facebook.com/motionTV.