Motion Episodes
British Virgin Islands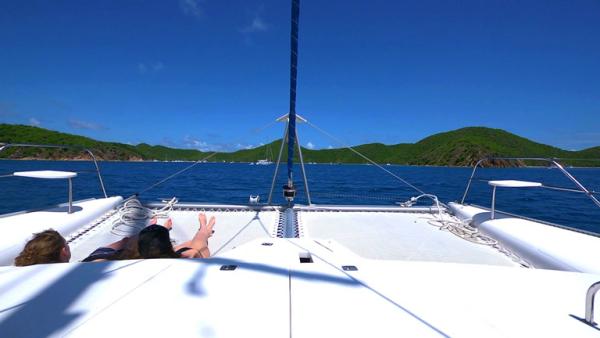 The British Virgin Islands in the Caribbean Sea are a sailor's paradise. With a little nautical experience, these tropical islands are easy to navigate and offer some of the most breathtaking views both above and below the surface of the blue waters.
The British Virgin Islands are made up of nearly 60 small islands. They are largely uninhabitable and are best explored by boat.
The Motion crew teamed up with one of the top sailboat companies in the BVIs, Conch Charters, to experience the magic of the island paradise by sailing its calm seas. The BVIs are popular to sail and are considered very easy to navigate with favorable winds -- easy for even inexperienced sailors.
The Conch Charters set the crew up on a 43 foot catamaran named Caty Wampus with plenty of room inside and out for the Motion crew and the two guest hikers -- Gina and Katie.
Gina and Katie are two best friends who haven't seen each other in over two years. They reconnected for their trip with the Motion crew to the British Virgin Islands.
"When I saw the boat I was so excited but a little bit nervous to spend three days on a boat with people I have never met. But once I met Greg and the crew, everything was fine. We were all friends," said Gina, Motion guest hiker.
Once the crew got settled on the boat they headed out to one of the best spots for snorkeling in the BVIs -- The Indians. The mixed underwater topography is what makes snorkeling at The Indians one of the top places in the BVIs.
"It was truly beautiful. I have never snorkeled in an area like that with the reefs and the fish and cliffs... it was amazing," said Gina.
Then the crew headed into a protective cove called The Bight, which is on Norman Island, where they could tie up for the night. Before calling it day, they explored the Sea Caves which were near by.
The next day they headed up to Cooper Island to go scuba diving. It was a first for Greg Aiello. They explored the historic underwater site where a ship deemed unsinkable went down nearly 150 years ago. The wreck of the Rhone is considered a premier dive location.
"I knew we were going diving and I was really exciting initially and then we get there and then it hits you a bit like, 'OK, I have never done anything like this before.' I was trying to play it cool and then all of sudden we got to the emergency procedures and that was a bit unnerving. But the minute we got the water it was an awesome experience," said Katie.
Next they explored Virgin Gorda -- one of the larger islands in the chain. They went to a popular destination called The Baths. It home to a magical maze of coves, pools and passageways that were created by volcanic activity long ago.
For more information:
Conch Charters
Beginner Sailing
Sail Caribbean Divers
Basics of Scuba Diving
Map of BVIs
Travel Guide