Recipes
Hemp Protein Granola Bars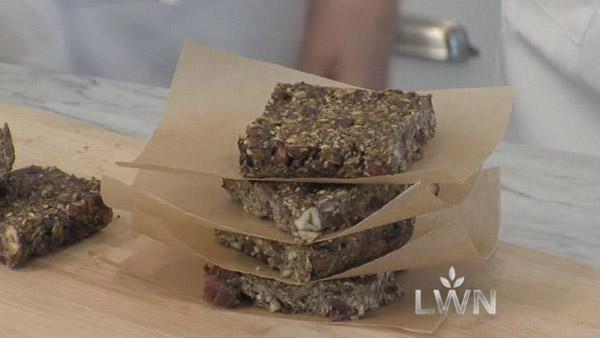 Provided by: Erin Stewart
2 Tbsp chia seeds
6 Tbsp water
1 1/2 cups rolled oats
3/4 cups hazelnuts, chopped
1 cup dried cherries, chopped
1 cup coconut flakes
1/2 cup hemp protein powder
1/4 cup sesame seeds
2 Tbsp poppy seeds
2 tsp cinnamon
1/2 tsp fine sea salt
1/4 cup mini vegan chocolate chips
3 ripe bananas
1/4 cup hazelnut oil (or canola oil)
2 tsp vanilla extract
3 Tbsp pure maple syrup
Directions
Preheat oven to 350 degrees F.
In a small bowl, mix the chia seeds and the water together. Set aside.
In a large bowl, combine the dry ingredients.
In another large bowl (or using a blender), smash the bananas with a fork and stir in the oil, vanilla, and maple syrup. Add the chia gel and mix to combine. Pour the wet ingredients over the dry ingredients and stir until well combined.
Spread the mixture evenly into a 9" x 13" baking pan and smooth out the top with the back of a spatula. Bake for about 40-45 minutes, or until the edges are golden brown.
Let cool completely, store in an airtight container. You can keep in the refrigerator or freezer for longer shelf life.
Yield: 8