Mirror/Mirror Episodes
Win-Win Beauty Products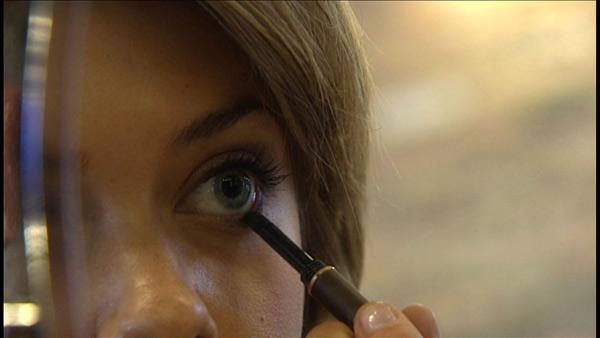 Rachel Gower and her team at The Upper Hand Salon love to test hair and beauty products that hit the market to see if they measure up. Here are a few recommendations that are both new and approved.
Stila One-Step Correcter
(about $36)
Swirl your way to better skin with this multi-tasker
It's a primer, color corrector, brightener and anti-aging elixir in one
Glides over and conceals imperfections
Reduces fine lines, wrinkles, pores, and pigmentation
Hydrates, controls oil and improves skin texture
Green reduces redness, conceals blemishes
Lavender lifts sallow undertones for a vibrant, energized look
Peach brightens, illuminates and helps diminish the appearance of sunspots
L'Oréal Collagen Micro-Pulse Eye
(about $20)
Two-step your way to revitalized, youthful looking eyes
Apply the Collagen and Erasyl eye cream to minimize dark circles and smooth away crow's feet
The micro-pulse massager reduces puffiness and stimulates circulation through a stream of gentle pulsations.
The result? Brighter, smoother skin around the eyes.
FusionBeauty Illumifill
(about $49)
From the makers of LipFusion, it's formulated to roll on line-free radiance and roll back time.
Hyaluronic acid fills out lines and wrinkles
Light-reflecting particles provide a youthful glow, disguising wrinkles & shadows on the cheeks, nasal-labial lines and forehead lines
Roll it on, plump it up and glow!
Solérra Tanning Mitt
(about $60)
Among the most user-friendly self-tanning products that we've come across
Slide on the mitt and glide it across your skin
The glove is lined, so you don't have to worry about orange hands
Waterproof, sweat-resistant and non-comedogenic
Tan develops in 4 hours and lasts for about 10 days
Doesn't wash off
Solérra Tanee Tan Line Correcter
(about $6)
No more unsightly tan lines!
Small enough to fit in your beach bag
Covers even the brightest of tan lines
Sponge-tip applicator allows for no-fuss, no-mess application
Frownies
(about $20)
A cost-effective alternative to fillers
Handy patches that adhere to your skin combating wrinkles while you sleep!
Made from all-natural ingredients - blend of aloe, oats, cactus collagen, bear berries, lavender and rose essential oils and antioxidant vitamins
The patches are designed to retrain the muscles below the skin to release the grooves that have developed and to relax into a smooth position
Kérastase Elixir Ultime
(about $52)
Elixir of four legendary oils:
Camellia Oil - absorbs into hair four times faster than other oils. Rich in Fatty acids and Vitamin F. Smoothes the hair fiber for lustrous shine
Argan Oil - known for its reparative and regenerative properties. Restores strength to hair and protects it from external aggressors
Pracaxi Oil - highly renowned for its capacity to promote cellular renewal. Imparts shine, nourishment and deep conditioning
Maize Oil - a potent cocktail of emollient and anti-oxidant active ingredients, delivers shine and suppleness.
Uses:
Pre-cleansing treatment to nourish and revitalize your hair
Pre-styling product to protect hair from heat stylers and maintain supple texture
Finishing touch- your hair will shine like the top of the Chrysler building!
Urban Decay All Nighter Spray
(about $29)
A marvelous makeup-setting spray designed for the gal on the go
Contains temperature-control technology to lock in your look
Keep your face looking FAB for up to 16 hours, in wind, rain, or shine
Orlando Pita Renew Dry Conditioner
(about $25)
Lightweight spray ideal for those with fine hair who shy away from traditional conditioners
Wheat-derived complex with a non-greasy finish
Simply mist onto dry hair
Smoothes and straightens dry, frizzy or curly hair
Restores moisture, shine, and softness
Pixi by Petra Smoky Eye Primer
(about $18)
Eliminates the creasing and smudging that commonly occurs with a smoky eye
A smoky-tinted "magnet" primer that will lock in your eye shadow, intensifying the smoky effect
Makeup stays flawless and foxy for hours and hours
Waterproof
Enhances the eye shadow color, meaning you use less!
Revlon Makeup Eraser Pen
(about $7)
Corrects smudges and smears on lips, eyes, etc.
Slide the tip of the pen on any aesthetic errors and they disappear
Kind of oily, so you may need a q-tip or tissue to blot after using
Clinique Repairwear Laser Focus Serum
(about $44.50)
Three technologies combine to correct wrinkles and sun damage while strengthening skin
Smoothes - peptides help boost natural collagen
Repairs - it's a potent cocktail of antioxidants
Improves texture - you can see a reduction in lines and wrinkles in 4 weeks; should be close to the results of a dermatological laser procedure in 12 weeks
Chanel Rouge Allure Lip Gloss
(about $32)
The "next generation" of lip gloss, brought to you by the first fashion brand to extend into the world of beauty.
The color of a lipstick combined with the luster of a gloss
Honeyed gel texture for luxurious, extended wear
Has a double-sided, flocked applicator for precision definition
Benefit Girl Meets Pearl
(about $30)
A liquid highlighter that's a cool shade of pink with gold pearl
Can be used alone, under or over foundation to give skin a lustrous sheen
Glow without glitter that can be layered on for a light shine or a more glowing look
La-Tweez
(about $24)
Stainless steel tweezers with hand-filed tips for perfect alignment
LED light in the center to illuminate your brows and help you apprehend every last offending hair
The case has a handy magnifying mirror built in
For more information:
The Upper Hand Salon
713-520-0772
www.theupperhand.com