Mirror/Mirror Episodes
Web Exclusive: Warrior's Partner Moves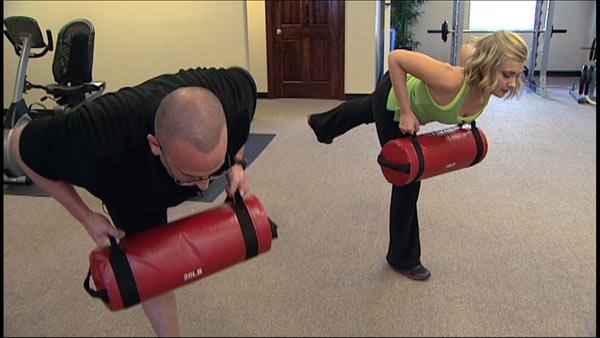 The Versafit Log offers a challenging a workout for you and a partner.
"The Versafit Log is basically a combination between a sandbag and a log. It allows a common-goer exerciser become a Spartan warrior or gladiator in their training regimen," said Fitness Studio Owner JC Guidry.
They range between 10 pounds and 50 pounds, but Guidry recommends starting light.
EXERCISES TO TRY:
SHOULDERING
Start with the log on the ground. In a squat position, reach down, grab the handles, lift the log up and pull it to one shoulder. Then, throw the log down, let it bounce. Pick up the log and bring it toward the other shoulder. Throw the log down to the ground again. Repeat, alternating shoulders about 20 times.
SQUAT THRUST
Start with the log lying parallel to feet, handles up. Squat down, grab the handles, kick the legs out, tuck them in, and stand up, holding onto the log. Repeat. Beginners start with 10.
SINGLE LEG BENT OVER ROW
Grab the log by both handles, holding naturally. While stabilizing one foot, lift the other foot off the ground. Bend over in a down position while holding onto the log and bring the back leg straight up. Lower the leg and stand up at the same time. Repeat a set of 10 to 20 on one leg, and then move to the other leg.
TOUCH DOWNS
Sit down on floor. Grab the log by the outside handles. Bring the Versafit log from the right side of the body to the left, rotating the core from side to side. Try to do 30 seconds to one minute.
BEAR CRAWLS
Get into an all-four position with hands and feet on the floor. Have the log right under body, running parallel to body. Crawl like a bear until the log is half-way down body, grab it by the side handle and drag in front of you. Crawl past the log until it's half-way down body, and drag again. Repeat. Try to make it the length of the room the first try.
For more information:
JC Guidry
Owner -- Method Evolution
www.methodevolution.com