Mirror/Mirror Episodes
Ways to Wear Head Scarves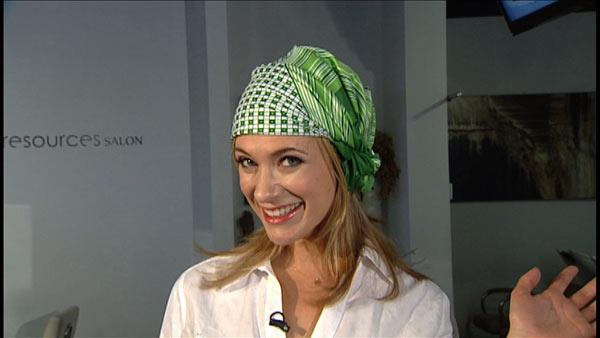 Wearing a scarf as a hair accessory is bigger than ever. Here are a few of salon owner Tamika Fletcher's favorite ways to tie a scarf on your head!
They're great for when you don't want to wash your hair, when you want to protect colored hair from the sun, or when your roots are showing. They're also fantastic if you want to be super-stylish.
HAIR TURBAN
Start by folding your scarf into a triangle.
Fold the point to the middle and keep folding back and forth until you have a three-inch band.
Bring the scarf around the back of the head so that the ends are in the front, then tie.
Tie one more time to give it a little pattern.
Tuck in the ends.
PONYTAIL SCARF
Start with hair in a low pony or low side ponytail.
Grab a lightweight rectangle scarf.
Fold scarf in half long ways.
Fold in half again.
Place the scarf over your head like a headband where the two ends are on one side.
Twist the ends once around the ponytail holder.
Then twist the hair in the ponytail in with the scarf.
Once you get to the end of the ponytail, tie it off with a very loose knot.
SPERA STYLE SCARF
It's not going to look really cute when you put it on your head but then after you style it, it's going to look fantastic. Start by bringing the scarf around your head. If your hair is down put the scarf on TOP of your hair. If your hair is pulled up, put the scarf under your hair.
Bring the scarf to the front and twist twice.
Bring it back around to the back and tie it.
CHIC PIRATE
Begin by folding your scarf into a triangle.
Bring the scarf overhead on the side, so that the point of the triangle is going to be near the ear where you want the bow.
Then tie the ends twice and tuck in all the pieces.
More information about Natural Resources Salon visit
naturalresourcessalon.com
.