Mirror/Mirror Episodes
Throwback Hair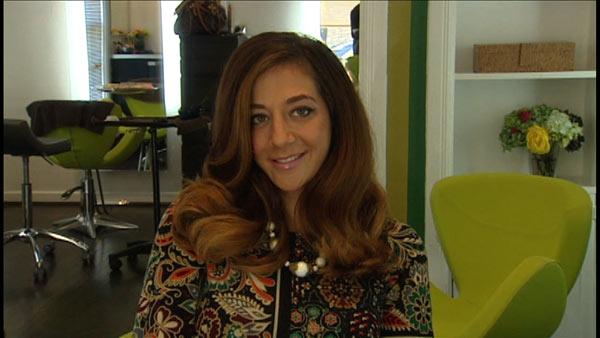 From TV shows to the red carpet, retro hairstyles are in demand. Here's how to get inspiration from the past but make your hair oh-so present!
Hairstylist David Armendariz says it's easy to have a contemporary look that fits your personality and incorporates elements from yesteryear.
Late '50s Sophia Loren look:
Section the hair across the top of your head from ear to ear. Then, make another section near the nape of the neck.
Divide those sections into smaller sections.
Grab a section, spray with hairspray, curl with a large barreled curling iron, release and re-roll with a Velcro roller to cool.
Do this to the back sections, then move on to the top sections. Use the same process, but use smaller Velcro rollers for the top.
Let the rollers set or use a hairdryer on the low setting and cool temperature to set the hair.
Remove the rollers being careful to keep a spiral curl in the hair.
Flip your head over and shake out the curls.
Tease the top, tame fly-aways, finish with hairspray.
Early '60s Modern Beehive:
Tease, tease, tease all the hair at the crown.
Spray the teased hair with hairspray (it will be very big!).
Next, tease the sides. Take diagonal sections and tease the hair forward so it can be pulled back with volume.
Lightly smooth out the top layer of hair.
Grab the top section of hair, gather it, twist it and push it forward and pin it with two bobby pins (criss-crossed).
Pull one side back, cross it over the back and pin it. Then, pull the opposite side back, cross it over and pin it.
Use a teasing comb to lift flat areas and comb down hairs that are sticking out.
Finish with hairspray.
Late '60s Mad Men Style:
(This style works best if you have a very short/pixie cut.)
Start with towel-dried hair.
Apply a good amount of styling gel to the entire head and focus on making a dramatic part.
Set the gel with a hairdryer on a low setting.
Apply pomade to seal the slicked-down style.
Add red lipstick to make the masculine hairstyle more feminine and dramatic.
Early '70s Messy Braid:
Start by spraying texturizing spray onto dry hair and scrunching a little.
Part your hair and sweep it to the side where you want your braid.
Twist the hair at the nape of your neck toward your soon-to-be braid.
Then, braid your hair over the front of your shoulder in any style you wish (classic, fishtail, etc.)
Cover the rubber band at the end with a piece of hair and pin it in place.
Mess up the braid a bit by pulling pieces out.
Spray with hairspray to finish.
For more information:
David Armendariz, hairstylist
Devin Barksdale, makeup artist
Tre Spa Salon
www.trespasalon.com
Tre Span on Facebook