Mirror/Mirror Episodes
Moms Borrowing Teen Trends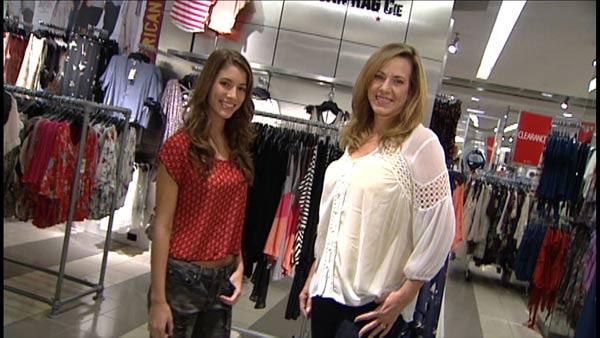 Junior's departments stockpile wild and crazy fashions for adolescent girls. And while mom shouldn't shop from those specific racks, she can incorporate some of her daughter's trends into her own wardrobe.
Teen stylist Erica Worzel says no matter your age, wearing a trend is all about the right interpretation.
Here she suggests some trends that mom and daughter can both partake in, if each follows her own set of rules:
NEONS
For teens: Go all out! Wear one color or all of them.
For mom: Keep the neon to a minimum. Pick pops of color like a belt or shoes.
SKINNY JEANS
For teens: Be creative! Try printed skinny jeans paired with a bold top.
For mom: Keep it classic with dark skinny jeans and a longer tunic top.
THE OVERSIZED SWEATER
For teens: Wear it off the shoulder and pair it with skinny pants.
For mom: Be careful because oversized sweaters can make you look dowdy. Try belting it to show your shape.
SNEAKERS
For teens: You can get away with pretty much anything, but Erica recommends a classic black Converse.
For mom: Pick a neutral-colored pair of sneakers. Pair them with a t-shirt and white jeans for a casual look.
PASTELS
For teens: Again, anything goes, but try adding an edge to your pastel shirt with a leather vest and floral pumps.
For mom: Pair pastels with a neutral to keep them from washing your complexion out.
GLITTER
For teens: Erica says you can never have too much sparkle.
For mom: Keep it simple. Maybe some sequin embellishment on a shirt or a sparkly handbag.
Erica Worzel, teen stylist
www.ericaworzel.com
Special thanks to Macy's for clothing and location.