Mirror/Mirror Episodes
Tailoring Tweaks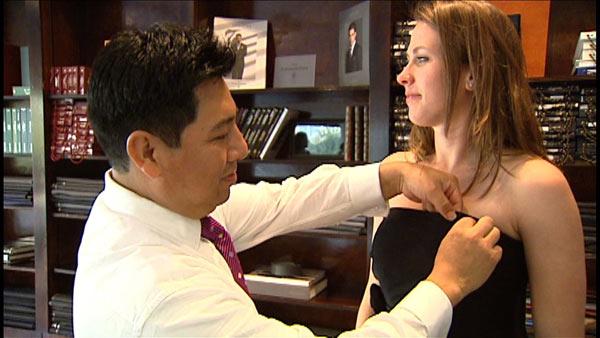 There's a way to look more polished in your clothes, be more comfortable and even look slimmer. Make friends with your local tailor!
"Everybody has a body part that doesn't fit off the rack. Some people it's having a wider shoulder or shorter leg or wider waist. The key is, fitting that part of you with whatever clothes you're buying, then tailoring the rest of you. That's how you get the most bang for your buck," says image consultant and author Sarah Shah.
Sarah says it doesn't always mean an outfit overhaul. Tiny tweaks can make a big difference to your comfort, confidence and appearance.
Common tweaks:
Gapping between the buttons of a button-down shirt -- a small snap will cost less that $20 to keep your bra from peeping through your shirt
Having a jacket length or sleeves shortened -- for around $40 the jacket will look polished and proportioned to your body, just make sure the cuffs are taken off and put back on so they look exactly the same.
A strapless dress that keeps falling down -- have a few darts put in the top of the dress for about $30 so you can move without worrying it'll fall
Make a boxy shirt fitted -- get a feminine fit with a few well-placed darts, the tweak will make you look slimmer for less than $20
Too big shirts that swallow petite frames -- have the arm holes taken in and the shirt shortened to make petites look taller, it's a fix that'll cost about $20
Jean or pants too long -- pant legs dragging on the ground will make your look sloppy! Have them shortened for about $15, but make sure the original hem is removed and sewn back on.
Sarah's "know before you go" tips:
Always Pre-Shrink - Before you take an item to a tailor, you want to pre-shrink it. That means put it in the washing machine and put it in the dryer the way you normally would. That way when it's tailored to fit you, after you wash it again, it's going to still fit you.
Too Tight? Check The Seams - Anything that's too big or too long can be tailored easily. But if an item is too small, you want to check the seam allowance inside the item before you buy it to make sure there's enough room to let it out.
Keep The Tags - If you aren't sure if an item can be tailored, bring it to the tailor with the tags still on and work with your tailor to see if it can be fixed. That way if it doesn't work out you can take it back and get your money back.
Know When To Spend - It is OK to pay more for tailoring that you did for the garment! So, say you get some great deal on a pair of jeans for $20. The tailoring might cost you $30 to get the length right and get the waist right. Well, the jeans are now $50 for a custom pair of blue jeans.
And, When To Save - When you've spend $200 on an item, I don't think you should spend much on the tailoring. Because if you're going to spend that much, it should already fit well.
For more information:
Sarah Shah, image consultant and author
"Dress Yourself Skinny"
www.sarahshah.com
Special thanks to Ronaldo at Nick Lopez Tailoring