Mirror/Mirror Episodes
Tailoring Transformations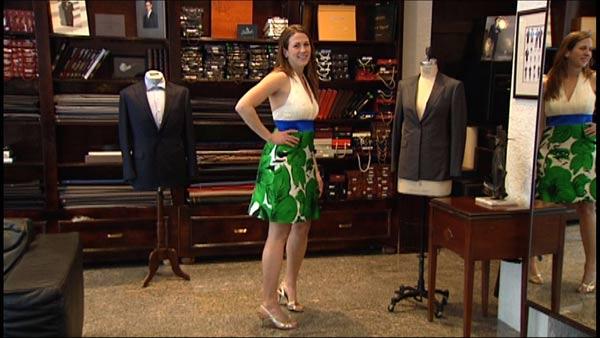 Many of us think tailoring is just an added expense. However, when a few seams can totally transform an outfit, suddenly it's worthwhile.
"Tailoring is really about turning clothes you like into clothes you absolutely love and then you get to wear them more than you did before," says Sarah Shah, author of the book Dress Yourself Skinny.
When deciding whether to have an article of clothing taken in or out, Sarah says to look at the cost of the tailoring, the cost of the original garment, and add those together. Then, determine if the new garment is going to be worth that much money to you in the long run.
More of Sarah's tailoring advice:
Most people think off-the-rack clothing should fit them. But it's made from a generic pattern and doesn't fit anyone perfectly. Almost everyone has a body part that doesn't fit the generic mold -- shoulders that are broader or narrower, a waist that is bigger or smaller, a booty that is fuller or flatter, legs that are longer or shorter. You know your part. It's the one that is hard to fit and frustrates you. The trick is to find a garment that fits that part and then alter the rest.
Well tailored clothing lifts your bottom, smooth your bulges and shrinks your waist.
Most clothing can be made smaller or shorter. Some items can be made longer or bigger.
Inexpensive fixes -- size of waistband, length of sleeves/pants/skirts, etc.
Expensive fixes -- jacket shoulders, bias cut dresses and blouses, items with intricate beadwork, embroidery, or stitching.
Before you go wash/dry new items.
Before buying a garment that is too tight or short, check to see if there's room in the seams to let it out/down.
Keep the tags so you can return new items if they can't be altered.
How much should you spend on tailoring? Experts recommend reserving about 20% of your wardrobe budget for tailoring.
It's OK to pay more for tailoring than you paid for the original garment, if you are happy with the total price of final garment.
For more information:
Sarah Shah, image consultant and author
"Dress Yourself Skinny"
www.sarahshah.com
Special thanks to Ronaldo at Nick Lopez Tailoring.