Mirror/Mirror Episodes
Spicy Home Beauty Recipes from Your Kitchen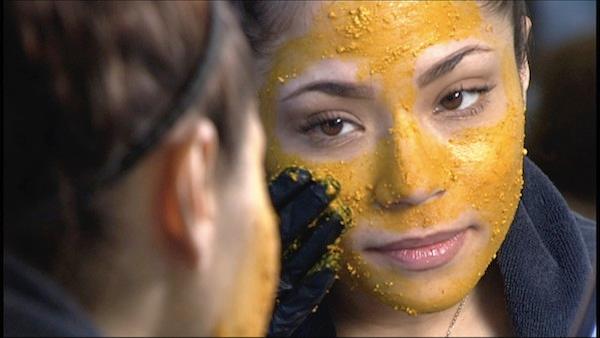 Most of us spice up our food, but have you ever considered spicing up your skin and hair routine? Here are some recipes for your home beauty routine that use common spices to perk up your skin, scalp and lips.
"Most spices are antioxidants. That makes them anti-inflammatory. Many of them are anti-fungal and anti-bacterial, so they're great for your skin and your hair," says salon owner Rachel Gower. Here are some of her favorite spice recipes:
Turmeric Face Mask
Turmeric is an orange-yellow colored Indian spice with the active ingredient, curcumin. It is an anti-fungal, antiseptic, and anti-bacterial. On our skin, it helps with hyperpigmentation and acne and can help make our skin glow.
1 tablespoon grounded oatmeal (put in blender or food processor)
1 tablespoon turmeric
1 tablespoon honey
Coconut milk, as needed for mask-like texture
Wearing gloves, mix ingredients and apply to face. Leave on for 15 minutes. Remove with cool to tepid water. Hot water will activate spice. It can leave an orange residue on face, so massage coconut oil into face to help remove and treat skin.
Ginger Skin Scrub
Ginger smells invigorating and has anti-inflammatory properties to increase blood flow and give the skin a glow. It's especially good and reducing appearance of cellulite.
1/2 cup ground rice (ground in food processor or blender)
1/4 cup brown sugar
2 tablespoons shredded and chopped ginger
Add a splash of coconut milk to give a scrub consistency
Apply to body, scrub, and rinse.
Cayenne Skin Scrub
This hot spice increases circulation, which can help promote healthy, shiny hair.
2 teaspoons olive oil
1 teaspoon cayenne (If you add more, continue with the two to one ratio of olive oil to cayenne)
Mix and massage on scalp. Leave on scalp for 15 minutes. Rinse and then shampoo hair as normal.
Cinnamon Lip Plumper
Cinnamon is anti-fungal and anti-bacterial. It's a natural exfoliator and it will also boost circulation, which makes it the perfect ingredient to plump our lips. Cinnamon also leaves a nice tint to the lips. Wet a cinnamon stick and rub on lips, or try this easy recipe. Take a cinnamon capsule from the health food store, puncture it with a pin, and squeeze out liquid. Apply liquid from capsule to lips. Use a tissue to rub off any residue. Apply Vitamin E to make lips soft and smooth. For more from Rachel, visit
theUpperHand.com.