Mirror/Mirror Episodes
Skateboarding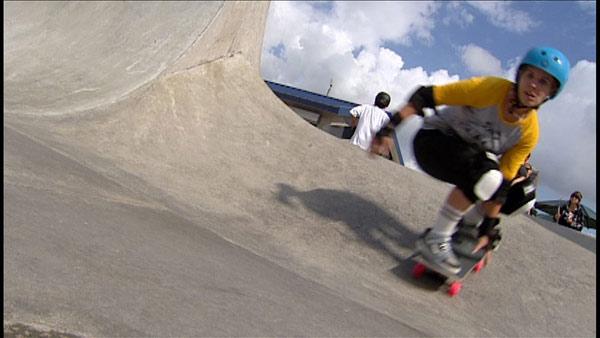 It's not often you see the girls rolling with the guys at a skate park. But women are discovering that with courage, confidence, and the right gear, you can get a total-body workout.
"It's fun, and girls are able to do it just as well as the guys. There's no limits," says skateboarder Lori Peltier.
So why is the sport still so male-dominated?
"I think a lot of it has to do with fear," says Peltier. "It's one of those things that once you try and you fall, you kind of don't want to get back up and try it again because it hurts."
Before Peltier teaches Rebecca the basics, they talk skateboarding safety: sneakers, knee pads, wrist pads, elbow pads, and a helmet. And safety goes hand-in-hand with style. Show off your personality with the clothes, shoes, gear, and board you choose.
It takes coordination and practice, but skateboarding is actually great exercise. There's an added benefit besides burning calories. Girls stepping off the ramp are gaining the self-esteem to separate themselves from the rest of the pack. It's why Lori created the GROW [Girls Rolling on Wheels] brand. She wants girls to not only turn their skateboard wheels, but also the wheels in their heads.
For more information: Lori Peltier, founder
GROW
www.myspace.com/girlsrollonwheels
Sowle Sisters
sk8sister.com/c/the-sowle-sisters.asp