Mirror/Mirror Episodes
Six Glamorous Ponytails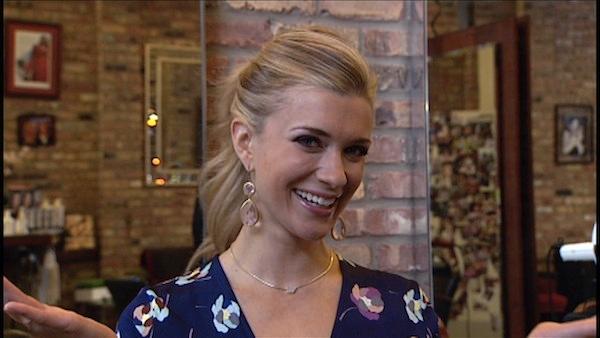 Ponytails are the easiest way to pull up our hair, but they don't have to be boring. Here are six how-tos for a perkier ponytail.
"Ponytails are a classic style, but sometimes, we think of them as casual, and the truth is, they can be very dressy, glamorous, and creative," says salon owner Rachel Gower. Here are a few styles to try if you have long hair:
Bubble Ponytail
1. Smooth hair back into an elastic this style looks best with a high ponytail.
2. Then, with clear or back elastics (depending on hair shade), attach elastics in even intervals down your ponytail.
Braided Ponytail
1. Pull hair back in a ponytail. Use a working hair spray to tame fly-aways, if necessary.
2. Braid ponytail to end.
3. Pull out little pieces of braid making it look fuller and a bit messy. For women with shorter hair, fine hair, or lots of layers, here are a few options:
Double Ponytail
1. Curl head of hair from mid-length down.
2. Take top section of hair from ear to ear, pull back, smooth, and secure with elastic.
3. Take the bottom hair and pull back, securing right under the first ponytail.
4. The double pony gives the effect of longer, fuller hair.
Puffy Ponytail
The Puffy Pony is a comb that helps the hair look full. 1. Pull hair back in a loose ponytail, but put it where you think the comb will lay flat.
2. Under the ponytail, go up with the comb and flip it so the comb lays flat along the head. This will poof the hair up.
Perfect Ponytail
1. The Perfect Pony looks like a tube. Section the top part of the hair from ear to ear, and place the Perfect Pony along the head.
2. Then, grab the rest of the hair and bring up to meet the tube. The hair will be surrounding the tube.
3. Next, secure the hair with an elastic band around the tube.
4. The tube helps give the illusion of fuller hair.
Ponytail Extension by Hairdo
The Hairdo Ponytail Extension only works if it comes in a shade that matches your hair!
1. Put hair in a ponytail and secure.
2. Wrap the ponytail extension around the original ponytail and secure. For more from Rachel, visit
TheUpperHand.com.