Mirror/Mirror Episodes
Rotate Wardrobe Between Seasons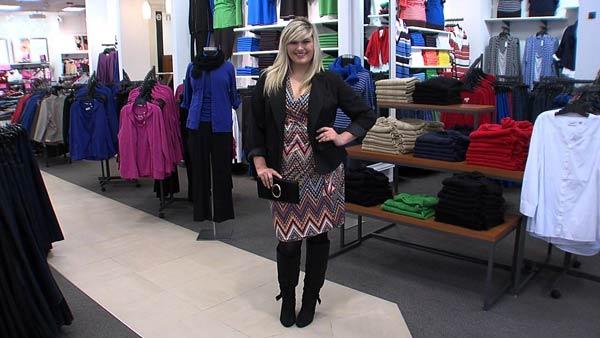 Want more wear out of your wardrobe? Make your closet 'seasonless' by transition dressing!
"Transition dressing is taking a piece from winter and making it work for spring and vice versa. You'll get more for your money by wearing what you already have all year," says style expert Megan Oxland.
It's a great way to reuse, re-wear, and incorporate pieces that you didn't think were possible.
The Little Bright Dress
Megan says: Everyone talks about the LBD, the little black dress. For spring, what's really important is the little bright dress in colors like teal, lime green, hot pink or magenta. Pair it with a black cardigan, tights and patent pumps for winter. In spring, shed the dark layers, add a denim trench, printed scarf, nude pumps and a fun cocktail ring.
Khakis
Megan says: Khakis are something everyone has in his/her closet at one time or another. They're great pants because you can wear them in every season. It's really about layering your pieces and adding something that's really winter to make it seem a little more appropriate for the season. For example, pair them with a classic chambray button-down under a cable-knit sweater with biker boots in the cold seasons. For spring, replace it with a floral blouse, colorful bangles, a snakeskin clutch and some brown wedges.
Short Sleeved Sweaters
Megan says: People are scared to wear short sleeves, or anything but long sleeves in the winter. The key is layering pieces underneath it. For example, a classic white button down, with rolled-up sleeves, plus bangles, a chunky watch, skinny jeans and boots work for cold months. For spring, play with the juxtaposition of the heavy sweater material. Pair it with a flowy cobalt blue handkerchief skirt and strappy sandals.
Palazzo Pants
Megan says: For effortless chic, everyone should own a pair of palazzo pants. In the winter, pair them with an ivory tie-neck blouse. But be sure to tuck in the top! This is key because the pants are so full. You need to create a waistline. Pair it with snakeskin pumps and a bold bag. For spring, wear the pants with an embellished tank top, a pair of wedges, and gold hammered jewelry to add a utilitarian feel to the flowy fabrics.
Printed Dress
Megan says: A printed dress is a really great way to add a little bit of fun to your wardrobe. Pick one with colors that are bold, but not too dark nor springy. For winter, add a black blazer, roll up the sleeves, add a pair of knee-high boots and a snakeskin clutch. In the spring, bring focus to the colors with a bright jacket, wedges and a fun bag.
For all of these looks, visit www.avenue.com.