Mirror/Mirror Episodes
Post-Workout Hair and Skincare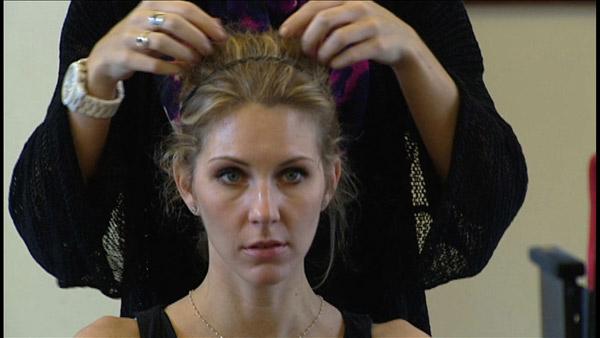 You work hard to work in a workout. It only takes a few minutes more to keep breakouts at bay and make post-workout hair cute!
Rachel Gower, owner of The Upper Hand Salon, has a few hair and skincare tips to look great after you exercise and keep glowing for days!
HAIR:
In your gym bag, it's smart to have a hair kit. A good on-the-go kit includes:
A spritz bottle (filled with either water or your favorite prep spray, like Shu Uemura Depsea Moisture Foundation)
Bobby pins and Spin Pins
A headband
Elastic hair bands or No Damage Hair Bands
Travel-sized hair powder (like KMS HairPlay)
Travel-sized hair spray (like Kérastase Double Force Hairspray)
Mini Paddle Brush
A great go-to hair style for post workout is a simple, messy chignon, otherwise known as the 3-Minute Chignon:
Take your hair out of the elastic
Spray hair powder throughout the lengths of your hair as needed
Brush through
Gather hair back into a high ponytail; secure with a clear elastic
Twist the tail- wrap it around the elastic and pin into place
Spray all over with hair spray
Gently rough up bun with your fingers, to give it a loose & undone effect
Slide a headband on, to bump up the hair behind the band a bit, lending the look a dressy finish.
If you're going to wear your hair down after exercising, chances are you're going to have a bit of a ponytail crease to deal with. Release the crease:
Take your bottle filled with prep spray, and spritz lightly around the crease, moving all the way around the crown
Take your paddle brush and place it under the crease
Brush the hair downward and blast the hair with a blow dryer until smooth
Using a fabric-covered elastic can reduce indentation!
Here are some of Rachel's must-have gym bag SKIN products:
CLEANSE:
It's important that you cleanse your skin IMMEDIATELY after working out. This will remove dirt and oil, while preventing breakouts.
Neutrogena Deep Clean Oil-Free Makeup Remover Cleansing Wipes (about $7)
Good for women with no prevailing complexion issues
Quickly remove oil, makeup, and dirt
Leave you with fresh skin
Oil free
No rinse required after using
Neutrogena Deep Clean Sport on-the-go cleansing wipes (about $8)
Individually wrapped, so you can take as few or as many as you want!
Are designed for post-workout use
Eradicate sweat, dirt and oil from the skin's surface
Penetrate into pores, getting rid of pore-clogging bacteria
Contain salicylic acid, to keep pores clean
Contain Cucumber and Green Tea extracts to soothe the skin
Acne Free Sport 3-in-1 Sport Wipes (about $10)
Work wonders for acne-prone skin
3-in-1 Action CLEANSES the surface of your skin,
TREATS by penetrating pores with Salicylic Acid,
and PROTECTS skin against bacteria with gradually-released acne medication
TREAT:
No future breakouts!
Acne Free Sport Clear 2-GO Sport Stick (about $8)
A spot acne medication that you can clip onto your gym bag!
Applied at the first sign of a pimple, this stick's micro-benzoyl medication absorbs into the skin twice as fast as conventional Benzoyl Peroxide.
Apply after cleansing, and be sure to follow with sunscreen, as Benzoyl Peroxide causes your skin to be ultra-sensitive to sunlight
Murad Clarifying Body Spray (about $37)
Purifies skin, promotes cell turnover, and clarifies with its powerful blend of Salicylic Acid, Retinol, and Vitamin E
360° spray nozzle works upside down, meaning you can cover those hard-to-reach places!
Delivers an ultra-fine, cooling mist
The cooling sensation lasts for about 10 minutes
Contains allantoin, an extract of the comfrey plant that protects skin and heals irritations while exacerbating the growth of new, healthy skin tissue
PROTECT:
Once you've got the situation all cleared up, it's important to follow up with sunscreen to prevent your freshly cleaned skin from getting red as you move from gym to car and car to office!
Supergoop! SPF 30+ Sunscreen Swipes (about $34)
Designed for infants. That means that they're great for people with sensitive skin!
Provide broad spectrum UVA and UVB protection
Come in re-sealable packs of 40; ideal for travel
DERMAdoctor MED e TATE (about $48)
Hyperhidrosis wipes
Put an end to excessive, embarrassing sweating
Contain the latest in antiperspirant technology
Simply swipe wherever you sweat too much
COOL:
While we all want to look "hot" post workout, we don't literally want to give off a "hot and bothered" look!
Korres Yoghurt Cooling Gel (about $24)
Contains 83.5% natural ingredients- very rare in the world of cosmetics
Yogurt instantly augments the water content of the top layer of the skin, thanks to its combination of lactose, proteins, minerals, and vitamins
Contains Sweet Almond Oil, one of nature's best hydrators, because it will not clog your skin
Lotion goes to work, hydrating skin and reducing redness on contact
For more information:
The Upper Hand
713-520-0772
www.theupperhand.com