Mirror/Mirror Episodes
Piloxing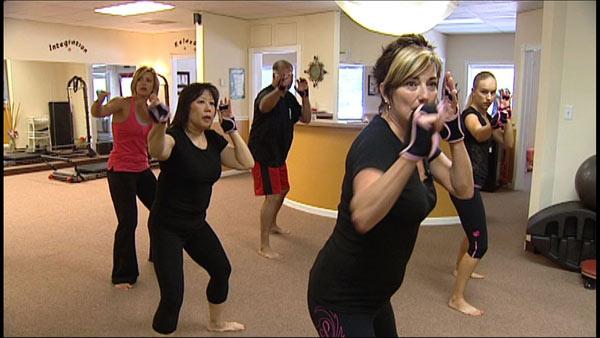 Take three fun, calorie-blasting activities and combine them into one great workout. What do you get? Piloxing!
The tagline is "sleek, sexy, and powerful."
"You have the sleek moves of Pilates, which elongate your muscles and create balance in the body. You have the powerful moves and the agility of boxing. Then, you have the fine, sexy moves of dance," says Jill Gilbert Lucas, owner of Gulf Coast Pilates. Thus piloxing is an interval workout made-up of two or three minute alternating blocks of each of the three exercises.
"We recommend, but don't require, you to wear the piloxing gloves that are especially made for piloxing," says Lucas. They're fingerless gloves with a half-pound weight on the back of your hand for an added burn.
"We also train barefoot. We recommend that you don't wear shoes because strengthening your feet increases your balance control and avoids the foot problems we get as we age," she adds.
"Some of the results I've seen from my clients are weight loss, increased energy, decreased stress, increased muscle tone, inches lost and wanting to work out because it's fun," says Lucas.
For more information:
Jill Gilbert Lucas, owner
Gulf Coast Pilates
www.gulfcoastpilates.com
281-660-8639