Mirror/Mirror Episodes
Long Skirts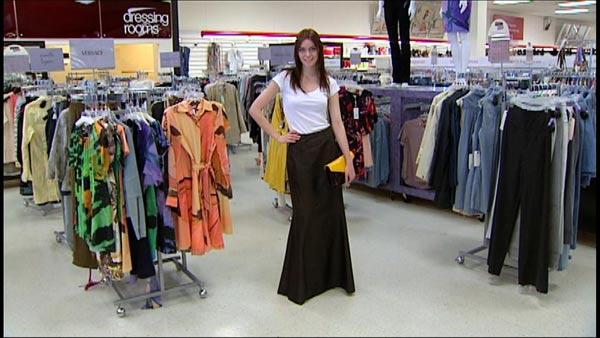 This season, the mini skirt is out (sigh of relief for most of us) and longer hemlines are in! Here's how to wear a floor-length skirt without looking frumpy.
Stylist and fashion blogger Lindsey Calla (SaucyGlossie.com) says, "What comes up must come down and this season it's all about bringing down the hemline but that doesn't mean that you're going to look frumpy and you're going to look like grandma."
Here are her tips for wearing longer skirts in style:
Don't be afraid of a bold print in a full skirt. Combat the bold pattern with accessories and pieces in neutral, which actually tone down the print of the skirt and make it more wearable.
You're covering up more leg, so you want to show more skin on top -- a v-neck, a sleeveless shirt, etc.
When you're petite you don't want to be overwhelmed by a huge skirt. If you're going to go below the knee make sure it's a little higher-waisted so you're not giving up any height. If you want to go for an ankle skimming skirt, wear it a little lower around your hips so it'll make your torso and legs look longer.
Keep jacket hems at your hip or natural waistline. Any longer and they could end up looking dowdy.
A chunky heel looks great with a longer skirt during the day to balance out the look.
With a night look and thin fabric skirt, opt for strappy heels.
With a fuller pleated skirt, one of the cutest ways to wear it is with a button down shirt - tucked in and belted! Make sure you're showing off your waistline since the skirt is so full.
Don't be afraid to use a hat when you're wearing a longer skirt, especially one that's a little fuller. It'll balance out your look from head to toe.
Don't wear flats with a longer pencil skirt or something fitted. Only wear flats with a skirt that's flowy.
Don't be afraid to take a long skirt and make it edgy. Layer on a cardigan, long, chunky necklaces and wedges.
To make a "beachy" skirt city chic, add utilitarian accessories like a canvas jacket and cargo bag.
You don't need to wear a super short mini skirt to go out at night. It's actually really on trend be lady-like and demure. Draw attention with an asymmetrical hemline or flowy, long layers and put away the chunky daytime wedges.
For an evening look straight off the runways and Hollywood, take a taffeta evening skirt, pair it with a basic white t-shirt, and add a color-blocked clutch.
For more information:
Lindsey Calla
Stylist/Blogger
www.saucyglossie.com
Special thanks to TJ Maxx:
www.tjmaxx.com