Mirror/Mirror Episodes
Knit Picky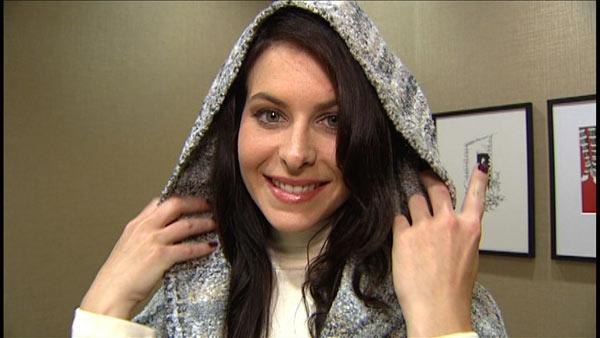 Knits are known for comfort, but now they can also be chic. That means no more ugly Christmas sweaters. From thick to thin, here's what's new and how to pair it together.
For the ultimate knit selection, head to the Knit Picks Shop, located in most Macy's department stores. That's where we found LaTarsha Mallard entangled in some of the season's top knitwear trends.
Wearing Knits for your Body Type:
Sweaters are a wonderful fall staple because they can easily be dressed up or down and are great for layering/warmth. Knits are also friendly to most body types. However, it's important to remember that every style does not fit every body type.

Clingy knit tops don't work as well for women who are self-conscience about their stomach or hip area, styles that will work are A-line knit tops, wrap tops or tops with an empire waist, which can help to call attention to the neckline, define the waist and hide a little bumps or lumps in the hip/tummy area.

Leggings are a key item for fall, paired with tunics and dresses. Some women aren't ready to take on the trend, so it's important to know there are other options. Try ponte knit pants, which provide more structure. Also the thicker knits hide imperfections
Colors/Prints/Patterns:
The color palate for fall has an emphasis on berries and deep winter colors, making you look rich and luxurious as well as feeling warm and cozy.

Grey and taupe are great seasonal neutrals. Mauve also plays an important role, combining the rich fall colors with the season's hottest nude hues, creating a soft and supple tone.

Geometric patterns and stripes continue to be hot, and of course animal print knits are a simple way to pull off an effortlessly chic yet glamorous look.
Casual Knits:
Jackets that have fun details: ruffles, drawstrings, exaggerated collars and zippers. Cozy knit bottoms are a big hit from leggings to drawstring pants.

Layer as many thin knits as you'd like. Pair with a skinny jean and over-the-knee-boots. You're not only warm, but totally spot-on trend.
Dressy Knits:
Similar to some of the casual knits, but with more formal embellishments. Decked with ribbons, grommets, studs and jewels they're playful and make you feel comfortable, yet look sophisticated.
All looks provided by Macy's. For more information visit www.macys.com.