Mirror/Mirror Episodes
Hydrafacial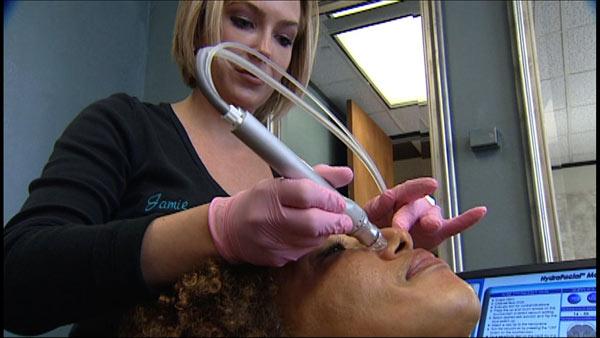 Traditional facials are relaxing, but often don't get your skin deep-down clean. Now there's an option that takes less time and, some say, offers better results and glowing skin.
"A Hydrafacial is the newest breakthrough in a skin medical facial. It actually helps exfoliate, deep clean, it extracts and hydrates at the same time," says Dana LeConey from the Institute of Anti-Aging. "The great thing about a hydrafacial is that it can be tailored to each patient's needs."
Dana says it can reduce the size of pores by exfoliating the dead skin and sucking out the subum, or oil, that gets into pores and often makes them large. After repeat visits, the facial can also reduce the appearance of sunspots and age spots.
The process is quick and easy. It takes less than 20 minutes in a medical spa office. The technician will infuse a chemical to help break up the dead skin and oil and then a machine sucks out the skin cells, dirt, oil and blackheads. Then antioxidants are infused into the skin, followed by a topical hyaluronic acid.
The results last about a month and the cost is similar to a regular spa facial.
For more information, contact:
The Institute of Anti-Aging
713-807-1000
www.antiageinstitute.com