Mirror/Mirror Episodes
How to Wear Plaid this Season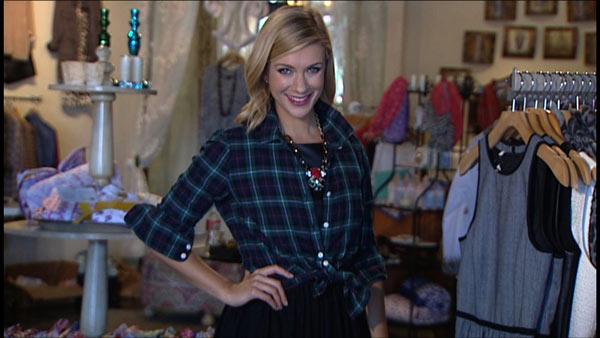 The classic print is making a comeback this season. Here's how to wear plaid with looks from four fabulous fashionistas.
Rebecca loves her classic plaid shirt, and this season it's oh-so-trendy. To make an outfit out of it, she paired it with a black leather and silk dress and knotted her plaid shirt over top. She added suede booties and a bold necklace to complete the look. Here's how a few other fashionistas are wearing plaid this season.
Magen Pastor
Image consultant and lifestyle blogger Magen Pastor created her plaid look by layering a leather jacket and checkered scarf over top, and adding skinny black pants and distressed leather boots to complete the look. To bring the whole look together, she added a Navajo print bag to the outfit in the same color palette as the scarf. Magen says mixing plaid keeps your look interesting, but when mixing plaids, pay attention to the size of the print and make sure the colors complement each other.
Lindley Arnoldy
"Plaid is a really fun trend," says Lindley. "You can do it really simply with just one piece like a skirt or a blazer, and play off the menswear trend." She paired a schoolgirl style plaid skirt with a more sophisticated black blouse. She layered over it a black motorcycle jacket and paired it with a beautiful black pump to complete the look.
Donae Charmosta
Donae Charmosta, also known as the Vintage Contessa, chose a more muted palette when creating a plaid look with a beige and burgandy plaid jacket with an ivory blouse and skirt underneath. Instead of pairing it with a conservative shoe, she chose a bold white platform pump covered in gold studs. For more from our stylists: Image Consultant and Lifestyle Blogger, Magen Pastor:
magenpastor.com.
Designer and Stylist, Lindley Arnoldy:
lindleyarnoldy.com.
Stylist Donae Chramosta:
vintagecontessa.com.