Mirror/Mirror Episodes
How to Wear Metallics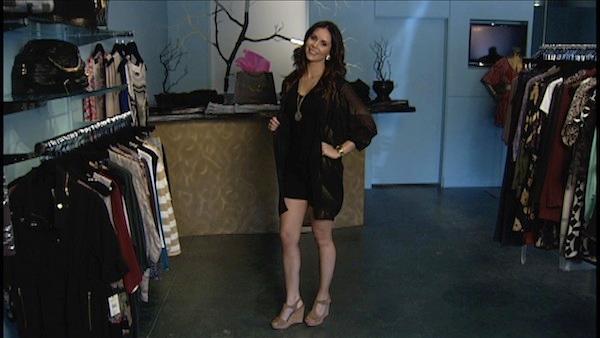 Gold, silver, bronze... metallics are nothing new to fashion, but this season they're especially in trend from head to toe. Here are the ways some of our favorite fashionistas are going for the gold or silver.
Karli Gillum
"When trying new trends I always suggest starting with solids and adding pops of the trend to the look," says Karli, stylist and blogger. Karli started with a solid base of black on black She took a simple v-neck shirt and paired it with her own homemade black cut-off shorts. Then she added a black kimono trench-cape with gold metallic detailing and a gold geode necklace, completing the look with nude wedges.
Val Anderson
Val says metallics are the easiest way for you to shine bright and act as a go-to. She paired a pair of pointy-toe metallic pumps, a metallic clutch, and a metallic skirt. The bottom layer of the skirt is an embellished metallic material and the top layer is a sheer transparent material mixed with some embellished beading. She put these elements with a simple purple tank and a great floral blazer. Florals are also in for spring, so have a little fun and mix up your different trends. Metallic and floral work perfectly together. "For me, this look is casual, yet still cute, and dressy. You can pretty much wear it to any fun event, meeting friends, going on a date, or just going out on a night in town," says Val.
Vintage Contessa Donae Chramosta
"I started with the key elements - the hand bag and the shoes - and I worked up from there. I incorporated the gold skirt and decided that either I need to add a pop of color or I needed to add an extra print and because leopard is kind of a new neutral, I thought it was any easy way to transition from fall to spring," says Donae. Donae says to be careful not to overdo the metallics. She incorporated a white jacket with it and the mixed print to keep it from being too gaudy. "I believe in mixing gold and silver together, but in general when you're basing an outfit on a color scheme, I think it's better to go with all the same tone," says Donae. For more from stylist Karli Gillum, visit
fashionbillie.com.
Special thanks to
Carrie Ann Boutique.
For more from Val Anderson, visit
StyleToEnvy.com.
Special thanks to
Bevello.
For more from Donae Chramosta, visit
vintagecontessa.com.